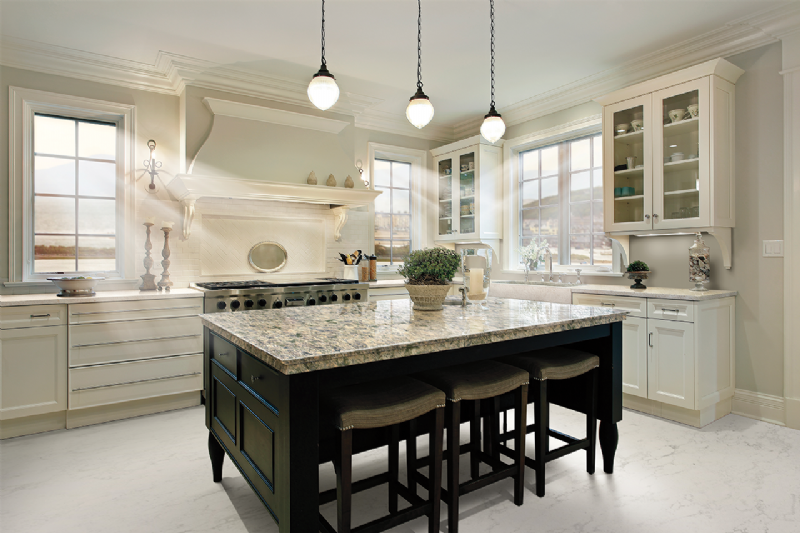 Cambria is a natural surfacing product most commonly used for countertops. It contains 93% natural Quartz, one of the hardest minerals on earth, making it superior in strength and durability compared to other products such as granite which contains only 40% - 60% Quartz.
Cambria products are manufactured by a unique recombining process; By combining pure quartz with a small amount of pigment and resin, ensures that the rich colors go all the way through the material to produce beautiful, strong, compact, usable slab pieces.
Cambria is nonporous and will not absorb liquids like granite does, making it stain resistant and therefore, maintenance free. There is no need for sealing or reconditioning, simply wash it with warm and water mild soap for a desired result. Cambria is completely safe for food preparation and is NSF 51 certified for food and splash zones in commercial kitchens.
Cambria is widely used for bathroom showers and shower seats, vanities and backsplashes, and for kitchen, countertops, backsplashes, the possibilities are endless. In your home or business, consider Cambria for fireplace surrounds, desktops, wet bars, windowsills, furniture tabletops, and accent pieces for a natural look that is strong and durable. Offered in a large variety of design options, light to dark, and monochromatic to mixed textures, you can get the natural look and feel of marble or granite in the colors of your choice.
For more specific implementation of Cambria, ask your sales representative, or visit our website.