Subway tiles came out in the early 1900's when the first subway in New York was constructed. Since then, the tiles have become popular finishing materials for homes, especially in kitchens and bathrooms and are one of the top current trends. Biscuit subway tiles have remained a favorite color and style because they blend well with different design ideas, including patterned natural stone, visually textured wood-like tile or ceramic floors. They offer neutral and clean lines. Because of their light color, they can make a space look bigger and brighter.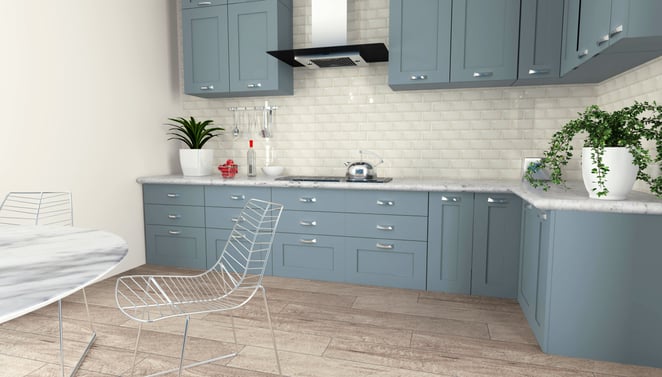 Shown Above: Alaska Ceramic Tile in Biscuit 3x6 Wall Tile
Here are some ideas on how you can incorporate biscuit subway tiles into your spaces:
Subway tile offers a classic look that never goes out of style. It's versatility as a backsplash in the kitchen or bathroom is unmatched as it conveys spaciousness and light. Biscuit subway tiles with same colored grout gives the walls seamless clean lines and accentuates other design elements in the space such as a copper sink or farmhouse sink with chrome or stainless-steel accessories, floor surface with contrasting color and other design details.
You can play with the pattern layout of the tiles to make the room look bigger, add length or depth to the space. Instead of using the common horizontal pattern, apply the biscuit tiles vertically. This will enhance the visual interest in the space plus it makes the height of the room seemingly taller and more spacious.
In contrast to the seamless or clean lines of laying out tile with the same color grout, play with the idea of using a darker colored grout to make the wall pop out and accentuating the detail of each tile that creates a matrix like effect to the wall.
Bring in a slice of history to your kitchen by applying biscuit subway tiles and pairing them with contrasting colored tiles, create a cove over your cooking space with the tiles as backsplash to bring out that "subway" impression from back in the good old 1900's, when this tile trend began.
Biscuit subway tiles now come in different sizes from the standard 3"x6", very slim 2 ¾" x 9.5", and a wide variety of large size tile that can bring a more contemporary look to your living space.
Have fun and let your creative mind play around with different style elements utilizing the biscuit subway tiles. Creating aesthetically pleasing spaces that you truly love is essential as you sit back and enjoy your new masterpiece while you cook, eat, relax or soak in the bath. To know more about your design choices, visit galleriastone.com or visit one of their retail locations (locations listed on their website) and let their in-house design team help you create the look you've been dreaming of!