The perfect kitchen needs to be both functional, and aesthetically appealing. As a focal point, the kitchen backsplash lends itself to genuine creativity that is a reflection of your personal design style and also captures those tidbits of uniqueness that is you. Let's start by discovering the top 10 creative kitchen backsplash trends.

1. Subway Tile,

a

popular trend that can accommodate both traditional and modern design inspirations. Subway tiles come in a variety of colors, and materials, such as glass, porcelain, ceramic and natural stone. Used as a strip between the cabinets and countertop, or from floor to ceiling, the design options are endless.

(below)

The smokey charcoal subway tiles create a bold force of dark color against the bright white of the cabinets creating a visual connection that ties in the salt and pepper granite for a softened look that still hinges on the modern.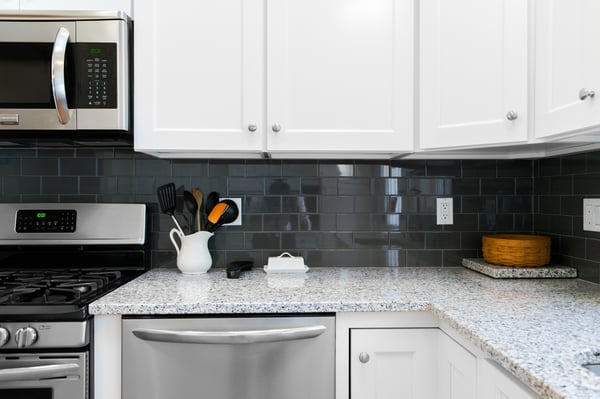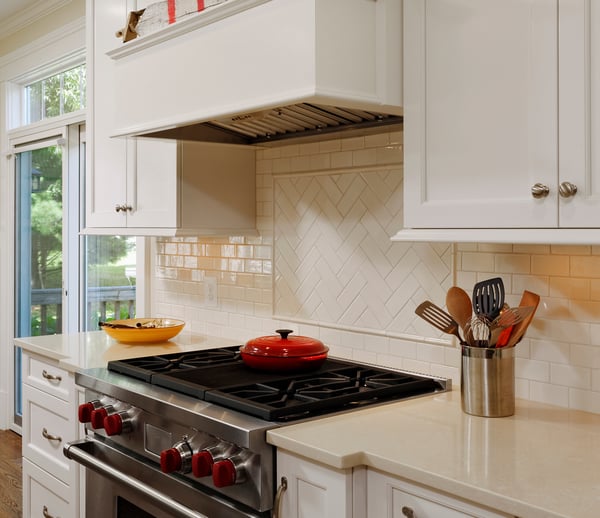 (above - Quemere Handcrafted Tiles) The 3x6 Subway tiles merge the simple and orderly with the dynamic to create an interesting backdrop. Clean design, the white on white herringbone pattern backsplash over the cooktop complements the traditional subway format for a look that is sophisticated, yet unexpected.
2. Hexagon shaped tiles...small, medium or large, they are in vogue. Traditionally seen in the powder room, hexagon mosaics have moved into the kitchen. Over the cooktop as an accent piece, or in a larger area as a complete backsplash, hexagon tiles add a contemporary flair to any space. (below - Design by Alisa Mangino of Galleria Stone and Tile/Guilford - features Soho Metrology Asian Statuary Lagos in Temple Gray) The hexagon mosaic creates a chic and distinguishing backdrop for the coffee bar area of this kitchen.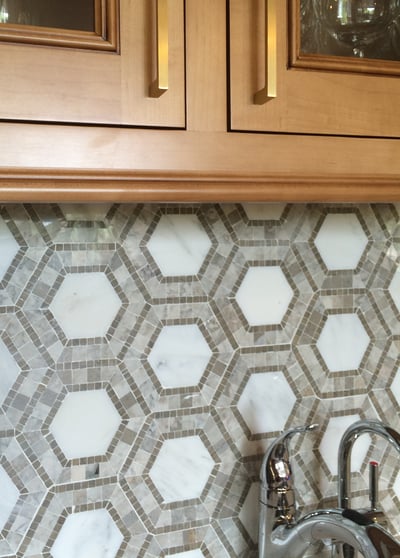 3. Mosaics, a traditional art form that has taken a prestigious place in home interior design, inherently lend themselves to countless creative options. Available in a wide variety of shapes, sizes and colors, mosaics have grown in popularity from bathroom and hallway flooring to entire wall coverings to a prominent placement in the kitchen backsplash. As a focal point above the cooktop, mosaic designs have transitioned from simple patterns to a bountiful display of complicated cuts and lively colors, meeting today's cosmopolitan design needs. (below) A warm tone of honed Crema Marfil subway tile is complemented by the Soho Fancy Weave backsplash over the cooktop.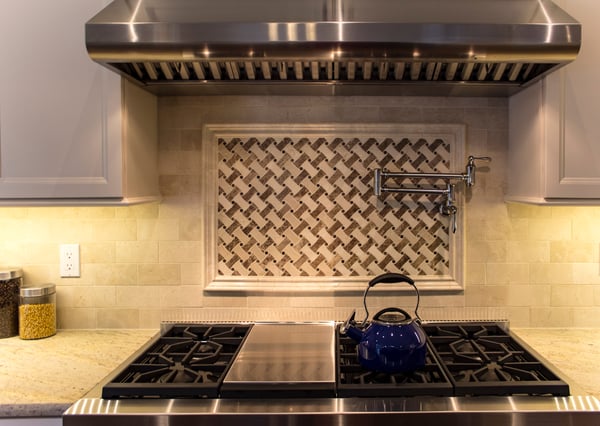 4. Decos can be best described as creative pieces of decorative tile utilizing geometric motifs, curvilinear forms, sharply defined outlines and often, bold colors. (below - Quemere) Truly elegant, an assortment of shapes and textures pleasantly intermingle to create a warm and inviting backsplash. Although monochromatic, this display is anything but subtle. The diagonal lines created by the square tiles set a dynamic backdrop for this decorative mosaic over the cooktop. The decorative liners and flush to the counter tiles visually set the backsplash into place on the counter.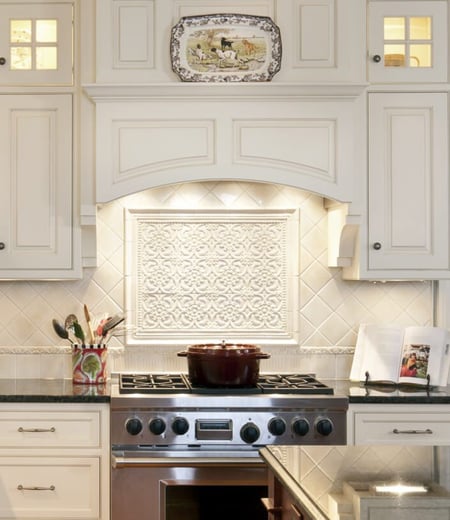 5. Murals are a visual step outside of reality, so why not give into your imagination and incorporate your favorite image into a backsplash? (below) A majestic scene of a ship at sea by Stone Impressions is prominently placed in the center of the space tying together the coast theme, a captain's treasure for sure.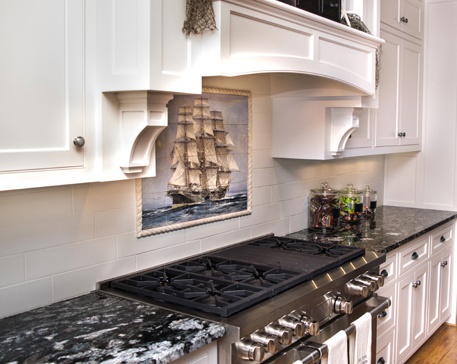 6. 3-D Tiles add an extra dimension to your wall space that is not only visual but also tactile. 3-D wall tiles display a vast selection of modern rhythmic patterns in large or small formats designed to bring life to a multitude of areas. A new trend of 3-D wall tiles has evolved incorporating a relief of elaborate, decorative motifs such as the one featured in the Quemere backsplash below. A delicate combination of natural, leafy embellishments are captured in this porcelain picture frame.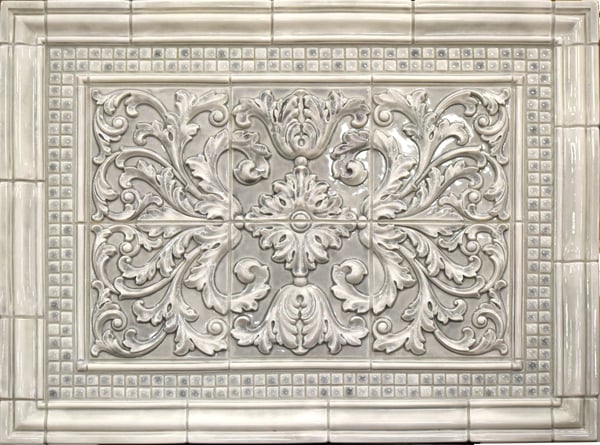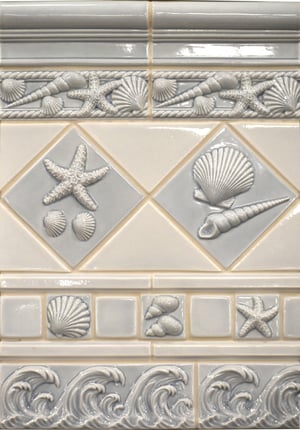 (above) Just another day at the beach... complete with white cap waves and those tiny little seashells that washed ashore. Rough ridges, pointed edges, smooth rounded surfaces playfully tumbled by the ripples of the ocean, all so beautifully natural and life-sized, you'll want to reach down and hold each shell in your hand - it's Quemere.
7. Metal accent trim, decorative tile pieces and stainless steel tiles are making their way onto the kitchen backsplash. A modern twist to traditional elegance, these new metal elements are offered in natural leafy or floral motifs, or contemporary geometric lines and shapes to accommodate a variety of design needs. (below) A Dora Brigham Interiors design presents a metal backsplash in this transitional style kitchen that is absolutely stunning.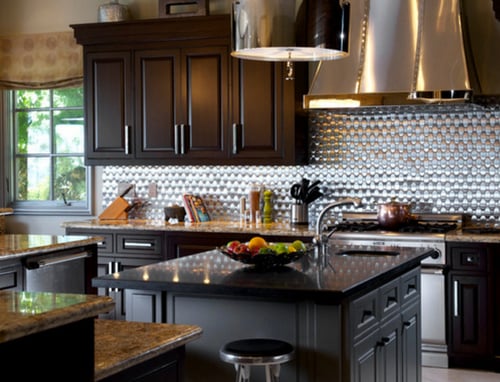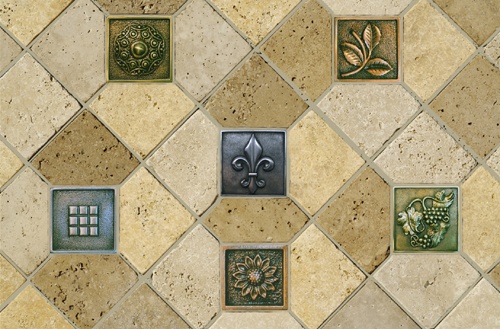 (above) A small sampling of decorative metal motifs offered are in a brass, copper or pewter finish. The possibilities are endless.
8. Glass tile, interesting patterns, unique colors and luminosity are some of the more modern sought out features. Strong enough to withstand the elements, glass tiles capture light like no other tiles can, which is the primary reason for using it in bathrooms, kitchens and exterior applications such as swimming pools. Glass tile comes in different shapes and sizes, such as rounds, that can be combined with other materials as accent pieces or stand alones to create an elaborate backsplash design. (below) A retro patterned glass backsplash mix features 3x6 glass field tiles with a 1x1 tumbled glass mosaic in black, - it's nostalgic.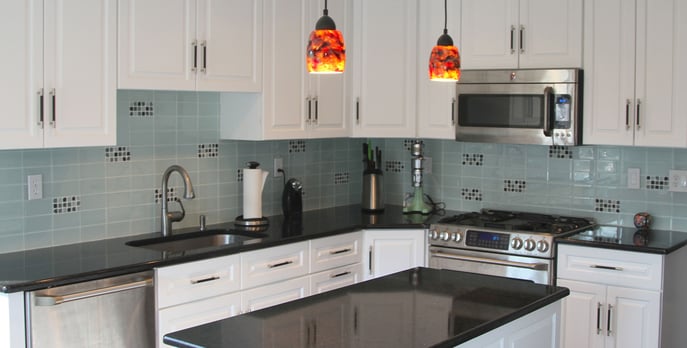 9. Objet D'art, popular extra large prints, patterns and vivid colors are trending, tiles and backsplashes not excluded. Bigger is better when it comes to creating a bold statement. Large tile formats have made their way into the kitchen and onto the backsplash to create an audacious focal point. (below) The warmth of these tiles boast a burst of energy as the red and orange pop into the foreground in this backsplash.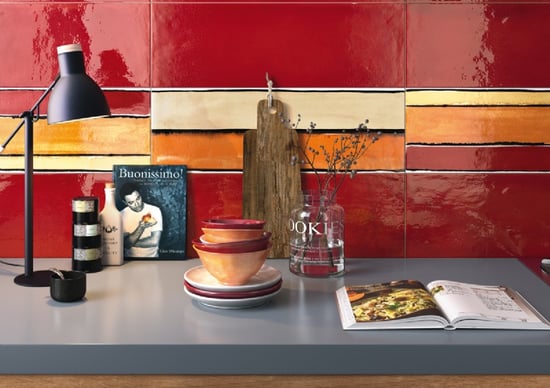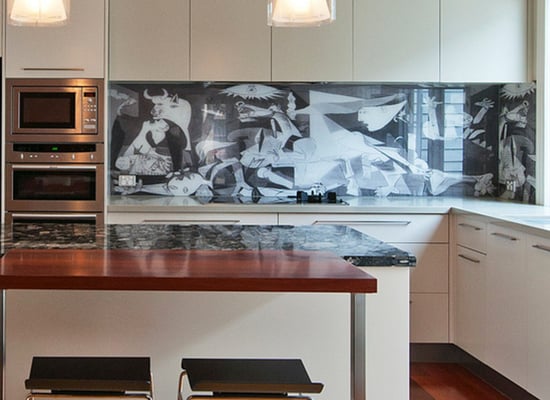 (above) True to the theme of large and bold, Picasso's Guernica is beautifully depicted in this modern kitchen design by Key Piece, a truly an inspirational work of art.
10. Thin porcelain is in vogue. From the countertop to the backsplash, bigger is better when it comes to creating a sleek, seamless, modern look. Suited for both indoor and outdoor applications, thin porcelain is durable, lightweight, resilient, slim, and has the stunning look of natural stone. What's not to love? (below - Statuario Venato 60" x 120")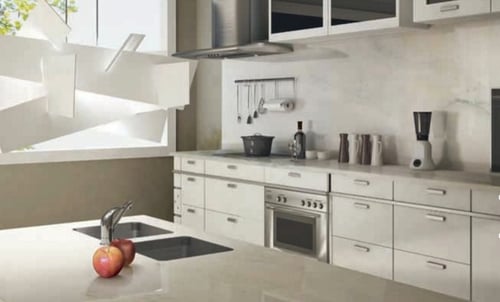 So many gorgeous tiles...so little space
The selection process is exactly that, carefully selecting the elements that best express your inherent style. Take your time, enjoy the journey and turn your backsplash into a work of art.
For more inspiration and tile and stone options peruse Galleria Stone and Tile's inspired spaces and collections pages and discover what is right for you.