There are many reasons why wood-look tile flooring has gained popularity in recent years. Among them durability, low maintenance and cleanliness rank the highest. Tile floors don't dent and ding with high traffic or show wear marks like wood floors would. Tile floors do not need to be sanded and refinished, and since tile is sealed/water resistant, mild soap and water is all you need to keep it clean. Aesthetically, there are many design options and colors to choose from to create a look that fits your unique style.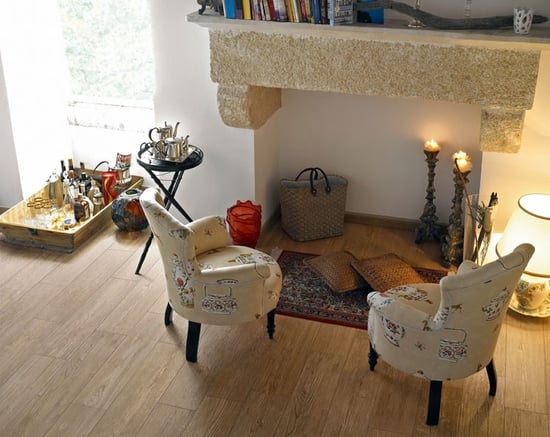 Installing Large Format Tile
Wood-look tile flooring is considered a large format tile and as such, there are a few things to consider before installation:
Large format tiles are much heavier and harder to handle than standard format tile.
The substrate needs to withstand the weight of the large format tile.
The substrate needs to be level and completely flat before installation.
Large format tiles must be laid straight on the substrate to avoid bowing or lippage.
NOTE: Large format tile (any tile or stone with at least one edge greater than 15") requires the use of a medium-bed mortar to compensate for the irregularities in the tile and substrate.
The Right Tools and Materials
Having the right tools and materials is a great start to a challenging project. This is our list of a few must-have tools and materials that will help you achieve the best results.
Mapei Ultraflex LFT - large format tile thinset material
Appropriate size large format tile trowel
Raimondi Tile Leveling System
8" Torpedo Level
1. Mapei Ultraflex LFT is a premium, non-sag, medium-bed, and thinset mortar material that is easy to use and specifically made for large format tile.

2. Use a large format tile trowel. It is important to have the proper amount of mortar underneath the tile when setting. Not enough mortar can result to the tile not sticking and too much mortar makes a mess when it comes up through the grout joints. Complete coverage and consistency throughout, is the key to proper installation. For large format tile, we recommend a ½" x ½" square notch trowel.

Note: Trowels are measured by the length, depth, and spacing of the notches, or teeth.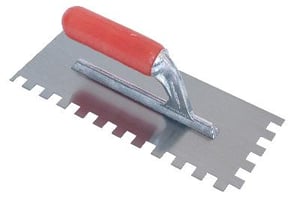 3. Even a beautifully placed tile floor is unprofessional if it is not level. An 8" Torpedo Level is an accurate tool used to check that the floor is not being set in a slant in the process of tiling.
4. The Raimondi Tile Leveling System is a simple way to set tile accurately and level without encountering problems such as a lippage or variance in height after the thinset cures. Set the support, insert the wedges and remove the supports when the adhesive sets. Here's how:
Tips for Installing Wood-Look Tile Flooring
Choose an offset pattern. The tile industry recommends that you offset no more than 1/3rd of the tile (33%). The more offset, the greater the chance of not having lippage issues when installing tile.
Plank orientation - Start the offset rows all the way across the room and then work your way to the side of the room.
Take time to be sure the planks are perfectly straight and level before continuing.
Grout joints for a hardwood floor look need to be thin as possible, ( 1/16"- ⅛") to blend into the color of the plank. If there is lippage, a larger grout joint reveals the difference.
We hope that you find these tips helpful. Once the installation is complete, your wood-look floor will be durable and ready to be enjoyed for many years to come.
For more information on installing wood-look flooring, please call 860-704-0268. .
For a wide variety of design options visit your local Galleria Stone and Tile Showroom or view our Wood Look collections.