As in any renovation or building project, there are many choices to be made in design and materials. Choosing the right kitchen sink is no exception. Cost, appearance and functionality are some of the main considerations. Let's look at the top 5 most popular kitchen sink options, their benefits and drawbacks.
1. Top-Mount Sink - The most common in kitchen sink installations, the top-mount sink is designed to be installed on top of a laminate countertop. It has a rim that overlaps the countertop and includes clips for fastening beneath it. Top-mount sinks are popular because they are economical, easy to install, and there are many sizes and varieties to choose from. A common concern with the top-mount sink is the rim. The edge of the rim needs to be properly sealed to keep water and bacteria from collecting in the crevices to ensure a sanitary area. (Below Design by Retreat Design/Image by Silvertone Photography) The large rectangular format is a sleek modern twist to the typical top-mount sink designs of the past.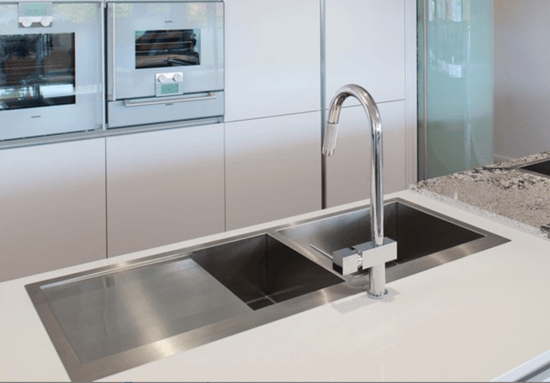 2. Under-Mount Sink - Most commonly installed beneath natural stone countertops, the under-mount sink is known for its sleek modern look and rimless edge. The support and braces are located beneath the stone, allowing for an unobstructed clean wipe - right off the countertop into the sink. Generally the under-mount sink can be installed by the fabricator as part of the template and install process, but a seasoned Do-It-Yourselfer can accomplish the task. One concern with the undermount sink is that water and bacteria can splash up and trap into the crevices between the sink and stone. Use of the right materials, such as an epoxy adhesive and silicone caulking is essential to proper installation. (Below) In a powerful visual statement, the black granite countertop boldly frames the stainless steel sink in this contemporary coastal kitchen.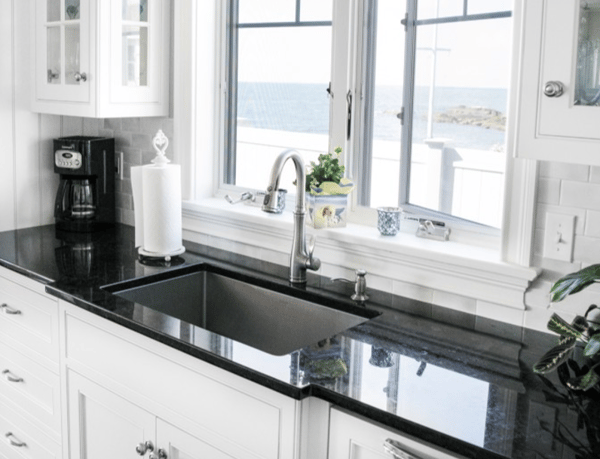 3. Farmhouse Sink - A farmhouse sink is categorized as a rectangular single basin, that is integrated with a backsplash and often utilizes a wall mount faucet. A farmhouse sink is made of porcelain or fireclay. It is finished on all four sides and usually paired with a natural stone countertop for a modern country look. (Below) The farmhouse sink is larger and deeper than most stainless steel top-mount or under-mount sinks on the market today. The gentle curved front is not only stylish, but also designed for the user to stand comfortably in front of the basin while washing over-sized items such as large pots or baking sheets with ease.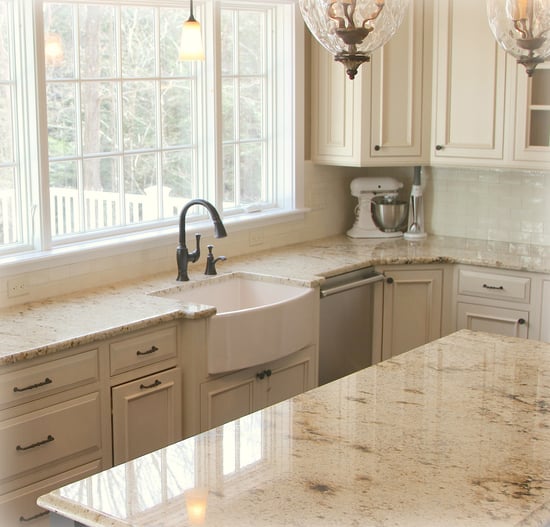 4. Apron Sink - Similar in appearance and shape, but not to be mistaken with the farmhouse sink, an apron sink has a front panel that can be made from a variety of materials such as stainless steel, or quartz for a more contemporary appearance. This difference is also apparent in that the apron sink is finished on only the front and not all four sides. (Below) Designed by SPG Architects /photo by Daniel Levin, the apron sink features a wood plank that ties in the cabinetry and countertop for a modern, unified look.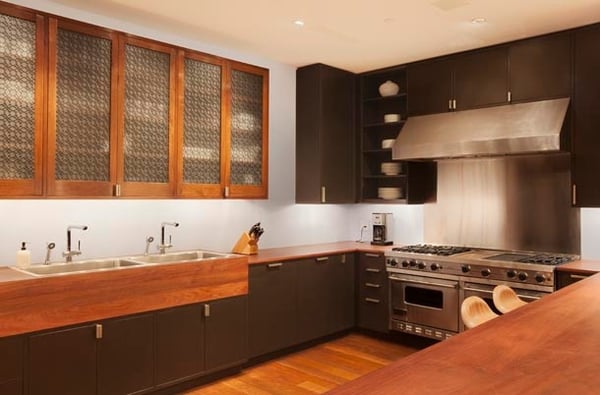 5. Top-Zero Sink - The Top-Zero sink features a revolutionary seamless edge that is not only sleek and modern, but also a superior option to both top-mount and under-mount sinks when it comes to cleanliness. The hairline space between the stone countertop and the top of the rim of the sink is filled with knife grade epoxy that is impermeable to water, creating a non-porous surface. Top-Zero sinks come in a variety of shapes and sizes and promote a sophisticated seamless look.
Although, we covered the top 5 kitchen sink options, it is important to understand the main differences of each, and to keep in mind that design styles always evolve, creating new, more modern alternatives to choose from.
For more information about, stone, fabrication and the newest sink styles, contact us.
For the newest trends and information, subscribe to the Galleria Stone and Tile Blog.