Tile –
Because of tile's wide variety of materials, shapes, sizes, and colors, there are limitless design possibilities and a limitless number of places it can be used. There is no doubt that it can be confusing. In addition to pre-manufactured tiles, there are a handful of companies that can hand-make custom designed tiles with the pattern, size, and color of your choice.
One of the few companies in the US that can supply everything including custom hand-crafted tile is GENROSE Stone and Tile.
Homeowners, house flippers, and real estate investors that want to get a solid return on their investment use durable, beautiful, and high-quality tiles when doing a remodel.
In fact, in the post-pandemic world, ceramic and porcelain tiles have healthy advantages:
Clean-up does not require harsh chemicals – soap and water cleans most messes

It is antibacterial, meaning it is inhospitable to the growth of mold, fungi, and bacteria

It is hypoallergenic – allergens such as dirt, dust, and pollen can't penetrate it's hard surface

Antimicrobial – options are available with properties that suppress the growth of harmful microorganisms
Let's go over some of the different types of tile material and process –
Ceramic Tile
Ceramic Tile is best used for walls and backsplashes, it is made from clay that has been permanently hardened by heat, often having a glazed finish. They come in a wide range of colors and clean easily. Ceramic Tiles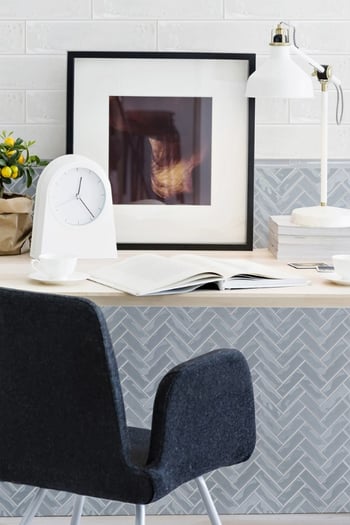 (above) Allure Herringbone Mosaic Ceramic Tile
Dry-pressed Ceramic Tile
Dry-pressed Ceramic Tile is formed from a finely milled body mixture and shaped in molds at high pressure, providing a very high level of strength (like porcelain).
Color Body Porcelain Tiles
Color Body Porcelain Tiles are created with continuous colored stains from the glaze surface throughout the body of the tile. Synchronizing the color of both the glaze and body lessens the visibility of any impact chips that may occur. The color remains consistent throughout the tile, but any surface design does not continue through the tile body.
Through Body Porcelain (or Full Body Porcelain)
Through Body Porcelain (or Full Body Porcelain) are produced using colored raw materials that permeate the entire tile, incorporating uninterrupted color and pattern features seen on the surface all the way through the tile body. The surface design is evident in a cross-section of the tile body, providing outstanding abrasion resistance and durability. It is excellent for heavy traffic areas. Porcelain Tiles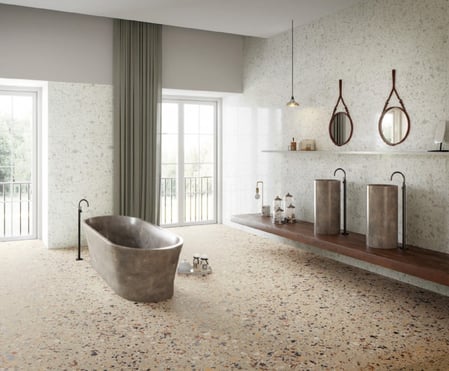 (above) Villa - Wall in Zinc Polished, Floor in Beige Natural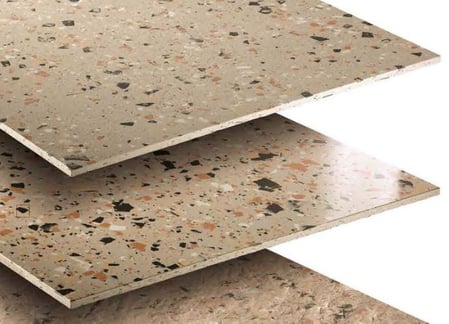 (above) Villa cross section
Glazed Porcelain
Glazed Porcelain - Glaze is a wear layer that is applied to the surface of the tile prior to being fired in a kiln. After being fired, the glaze will take on either a shiny or matte finish and provide a high level of protection against staining.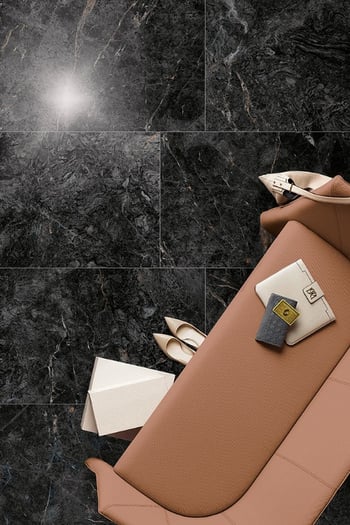 (above) Cathedral Porcelain Tile in Nero
Terra-Cotta
Terra-Cotta ties maintain their reddish-brown clay appearance; they have a Southwestern appeal. Because they are unglazed they should be treated with sealant to be effective countertops, backsplashes, or even floors.
Glass Tile
glass tile is noted for its beautiful depth and color luminescence. Because it is glass, it has a more limited use but is still excellent for a backsplash or wall accent. Glass Tile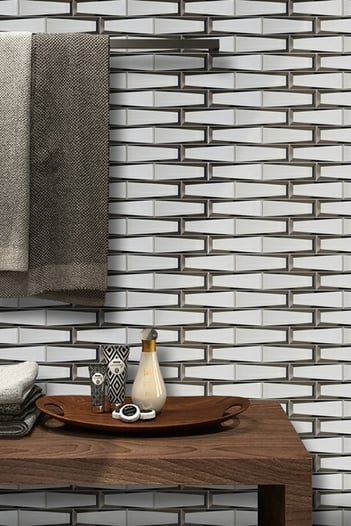 (above) Metallic Mirror Glass Tile in Brick Mosaic
Textural Tiles
Satisfy your sense of touch with textural tile!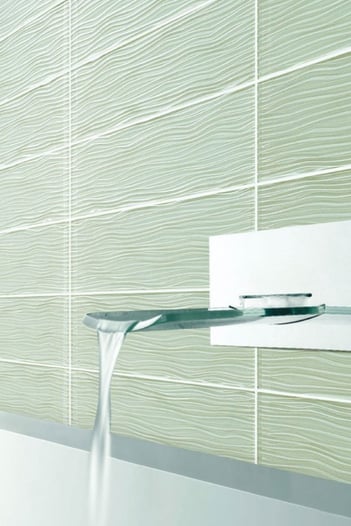 (above) Wave Glass Tile in Ocean spray
Custom Handcrafted Tile
Hand-crafted, hand-painted, custom-designed tiles can be produced in almost any color, size shape and design by craftsmen who follow old world manufacturing techniques. Although hard to find, these tiles are usually one of a kind and architecturally unique. They are often reserved for high–end designs. One of the most unique hand-made tile companies is Quemere Designs, who manufactures each unique order individually. Hand-Made Tile
Each part of the order is glazed at the same time so that you have one dye lot when installing. Tiles that are in stock and commercially made are generally manufactured at different times so even though you are using tiles from a single collection, they may be manufactured in a different batch and you can encounter problems with the lots not matching. The biggest complaint with jobs is that the bullnose doesn't match the field tile. You do not have to worry about that with Quemere tile orders.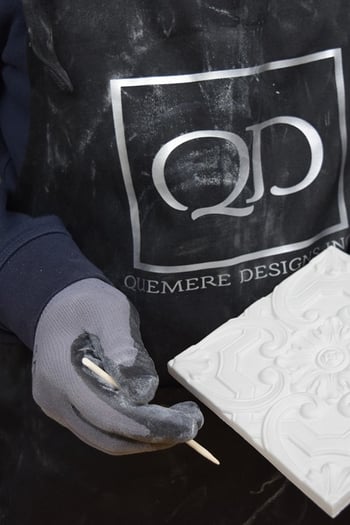 (above) Hand-crafting each tile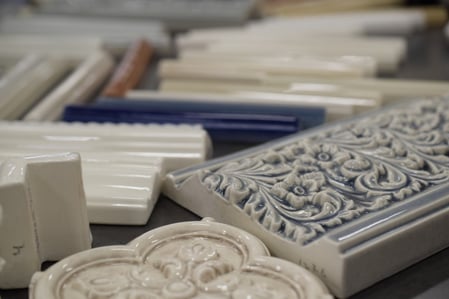 (above) Luxury hand-painted ceramic tile
Rectified Tile
Rectified Tile has gone through a cutting process after firing that ensures each edge is precise, straight, and uniform. Grout lines can be very tight when using rectified tile.
Non-Rectified Tile
Non-Rectified Tile has not been cut after firing. As a result, the edge is natural and due to the nature of a fired product that has some shrinkage, there could be a very slight variation in sizing. Larger grout lines may need to be used in order to correctly fit tiles together, fill in gaps, or hide these minor differences in size.
PEI Ratings
One more piece to understand is the PEI rating on tiles –
PEI stands for Porcelain and Enamel Institute's wear rating. PEI rates a glazed tile's ability to resist abrasion. Only glazed tiles get a PEI Rating. Ratings range from I to V:
I or II The tile has a low resistance to wearing and would best be suited for a wall application.

III The tile offers a moderate level of resistance to wearing and would be suitable for most residential uses.

IV The tile is highly resistant to wearing and would be suitable for all residential uses and some light commercial uses.

V The tile offers the highest level of resistance to wearing and can be used in heavy traffic commercial spaces.
As you can see the functional durability of these tiles is as diverse as their sizes and color. Making the right decision on the type of tile is imperative to making your dream project successful.
It is important to deal with a professional tile and stone dealer before making these decisions. They also have an enormous selection to choose from. GENROSE Stone and Tile across the Northeast is a design driven company, providing standard, unique, and custom designed surface materials. Their USA manufacturing divisions which produce handmade ceramic tile, stone fabrication, mosaics, and cut to size tile, act as a resource to overcome traditional sourcing obstacles. Using a combination of the best technology and equipment in the world together with the superior workmanship of our design professionals, GENROSE can do anything in the realm of stone fabrication.
Contact the professionals at GENROSE Stone & Tile at one of their eleven Northeast locations, or search their website at www.genrose.com to start building your dream.
If you would like to learn more about any of the products above or need assistance with any of your home design needs, visit our website here or contact us by clicking here and one of our representatives will be in touch!
GENROSE Stone and Tile is an accredited fabricator with the Natural Stone Institute.