Are you considering natural stone for your countertops? Before resuming your search for slabs, get the answers to some of the most frequently asked questions about stone. By equipping yourself with additional knowledge, you can enjoy confidence and peace of mind when it comes time to make that big investment.

The granite I selected appears to contain a number of irregular lines running through the surface. When I run my fingernail across these lines, I can feel them. Are these cracks something I should be concerned about?
Granite is one of the strongest natural minerals. Being a natural product, it is removed from the quarry with all the veins, crystals, coloration and characteristics that make each stone so unique and beautiful. The lines you see and feel are called fissures. Fissures are naturally occurring, can run through the entire thickness of the stone, but do not affect the physical integrity. Accordingly, they should not be a cause for concern.
Some showrooms only offer sample-sized color swatches of different stones. Is it safe to make my selection off a small sample or is it better to actually see a full slab?
A product of Mother Nature, each piece of natural stone is completely unique. Case in point: the slabs shown below are both Statuario Marble. As you can see, the slab on the left is much softer, with subtle, smoky grey veining. The slab on the right is bold and dramatic with thick charcoal veins. Since coloring and veining can vary dramatically on many different stones, it's best to view full slabs of the material you're interested in purchasing. By doing this, you will not only discover the piece that speaks most to you, but you will also get the full picture of what your stone offers in terms of veining, shading, and coloring.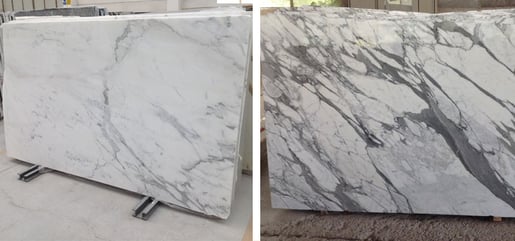 In certain light and from certain angles, I can see what appear to be very small pockmarks of the face of some stones. Can these be polished out? Are they defects?
Again, the nature of the stone presents a unique combination of beauty and character. Shallow pits and pockmarks occur in some stones. They cannot be polished out without damaging the factory applied finish. Their shallow nature prevents the application of a color-matched epoxy as fill. Accordingly, they demonstrate the features of a natural stone, as opposed to a man-made artificial material.
Some stones are more expensive than others. Does this have anything to do with the quality of the individual stone or family of stones?
In the marble and granite industry, the cost of individual stone is influenced more by rarity and availability, location of the quarry, durability and transportability (as opposed to the inherent quality of the stone itself). Some of the most rare and attractive stones actually appear to be crumbling. You may see a mesh backing, which has been applied at the quarry with epoxy, to keep them intact. They can actually be more expensive than some of the less fragile, yet less rare, materials. When it comes to stone, cost and quality do not always relate to each other the way man-made materials do.
When a seam is required for my application, what material is used to secure the two pieces to each other? What should I know about the seaming process?
Your stone countertops are installed with an industrial strength silicone adhesive. When seams are required in your application, a color-matched epoxy is employed to join the pieces together. Normally, the joint will require no special maintenance. However, should your house (and therefore your cabinets) settle after countertop installation, a seam may pop and will require repair. You should also be aware that the epoxy used to join the seams contains properties that are absorbed into the joints and are impervious to the sealant. Accordingly, when sealing your countertops, do not be alarmed to see several inches on either side of the joint appearing slightly different than the rest of the sealed area. This different appearance will disappear as the countertop dries.
Many edge options are offered for vanities and countertops. Are any particular edges more susceptible to chipping and waiving during the fabrication process? Is the material chosen also a factor in the edging process?
Stones with high concentrations of quartz crystals can experience chipping during seam and edge fabrication. Stones with large, chunky patches of color can reflect a somewhat wavy appearance on certain edges, particularly when selecting the more ornate edge patterns such as Dupont or Ogee. Blowout crystal chips occur regularly in the fabrication of the seams and edges of certain stones. They are routinely filled with color-coordinated epoxy and polished. These are not defects and the practice of filling is standard in the industry.