The Similarities and Differences Between Today's Two Most Popular Looks
The terms Modern Design and Contemporary Design are often looked at as virtually the same, but if you consult interior design professionals, they will tell you that these are two very different design styles. Although they have their similarities, there is a world of difference.
Both Modern and Contemporary have similarities that start with open and uncluttered spaces. They both incorporate clean designs with a simple artistic flair. Both designs have an open and airy appeal which can be accentuated with the right Porcelain Tile floor. The result is a room that generates a warm inviting feeling.
Modern Design refers to a specific time period that is long-since passed. Contemporary is today and, in reality, looking to the future.
Modern refers to the early 20th century including the Art Deco period of the 1920's. It evolved again in the 1950's and 60's into the Mid-Century Modern look, but everything within these time frames is considered Modern Design.
Modern interiors often feature wood and earthier elements and tones. This gives a neutral palette that also includes natural materials like linen, leather, wood, and natural stone. This, tied to clean strong functional designs with no frills and fuss, gives an easy, comfortable feel without the clutter; form follows function. The effect of all these design materials gives an attractive warm look that does not require a lot of heavy accents. Colors in the Modern palette are brown, olive, rust, etc., accented with décor pieces in rich primary colors like red, yellow, and blue which are usually functional. Splendor Tile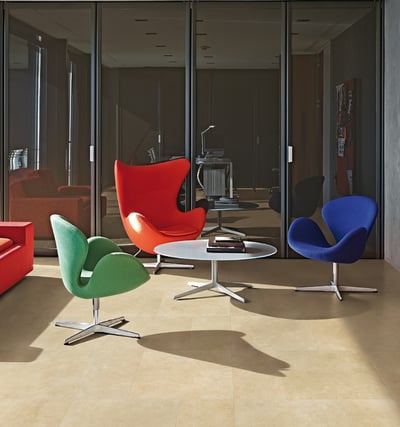 (above) Splendor Porcelain Tile in color Marfil
Flooring in a Modern Design Setting
Neutral Tones: For Modern flooring, smooth and neutral is the basic rule. A low-profile floor ensures the focus is on the rest of the room with geometric patterns, bold functional accents, and interesting textures. The furniture is often on wooden legs. To augment this style you will want your floor to be a natural stone-look or wood-look porcelain tile.
Wood-Looks: A light stain or even a shade of grey would bring out the essence of this style. Sanded-Wood-Look porcelain tiles like Albero, minimize the grain and blemishes of the wood, and work with Modern's open floor plan of a clean, less-cluttered look.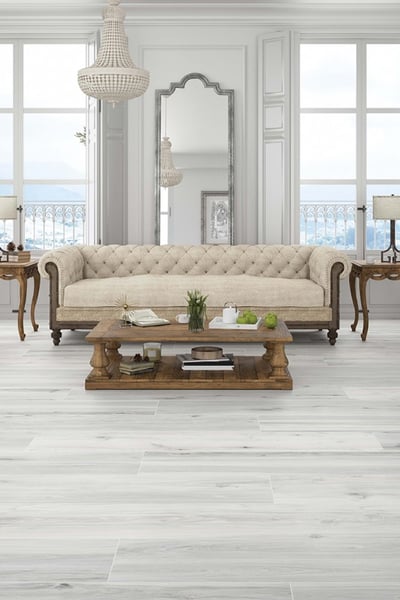 (above) Albero Porcelain Tile in color Blanco
Stone Looks: Warm neutral stone-look porcelain tiles accentuate the neutral palette and natural materials. Solar Tile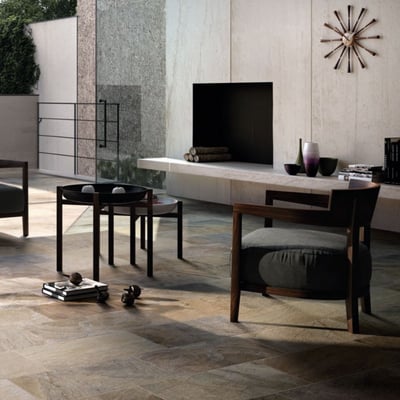 (above) Solar Porcelain Tile in color Earth

Terazzo: A tile with the look of marble chips in concrete. During the mid-20th century this was a hot look in schools, airports, and… Today it is making a huge comeback as a stylish modern touch in businesses as well as homes. It is a bold, retro feel. Rialto tile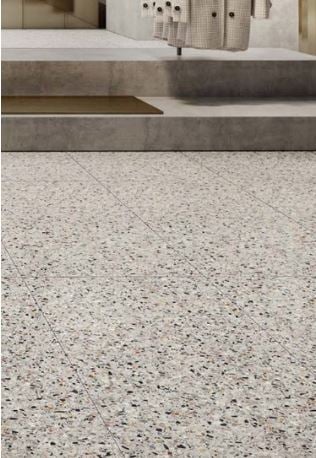 (above) Rialto Porcelain Tile in color Cloud
Contemporary:
Contemporary design takes its styling starting in the 1970's and includes all the fashion trends that are happening at this very moment. This makes the design style a lot more difficult to pin down and keeps it changing on a regular basis. As time passes, all of the 'current' trends that develop will be considered Contemporary.
Contemporary interiors feature neutral tones, sleek lines, and organic elements. The look features grays, whites, and blacks as the colors that form the foundation in a "less-is-more" feel. If color accents are added, they usually are in shades of indigo, burnt orange, etc. Design accents are metal, stone, and glass and tend to be strictly ornamental. Furniture is airy and distinctive yet basic. Grey and other pale hardwood-look floors are the current trendy look. Still the heart of the look is still one of functional comfort. Aspire Tile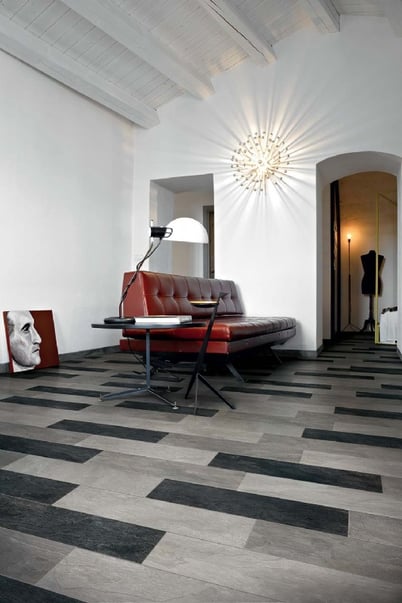 (above) Aspire Porcelain Tile In color Gris
Flooring in a Contemporary Design Setting
Wood-Look: Choose a pale hardwood-look tile floor that combines the durability of porcelain tile with the grainy texture and details of a real wood floor. Boardwalk Tiles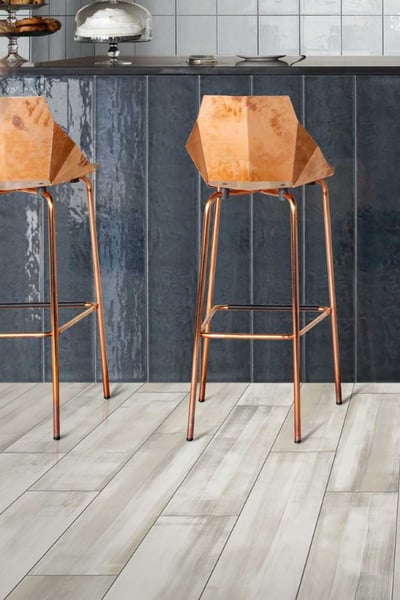 (above) Boardwalk Porcelain Tile in color Forest
Tile Shapes: Although natural stone-look tile in light grey, white, and blond and wood-look tiles have been popular in Contemporary homes for a while, this look is now accented by utilizing different shapes like hexagons and mosaics. To build a truly unique look to any room, add a multi patterned Hexagon Deco Mix that makes the design possibilities endless. GENROSE offers a wide assortment of looks and shapes to make your dream home come true.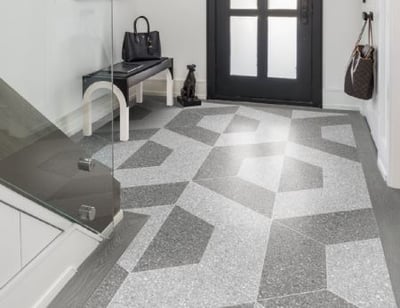 (above) Speck Half Hexagon Tile in colors Shadow, Ash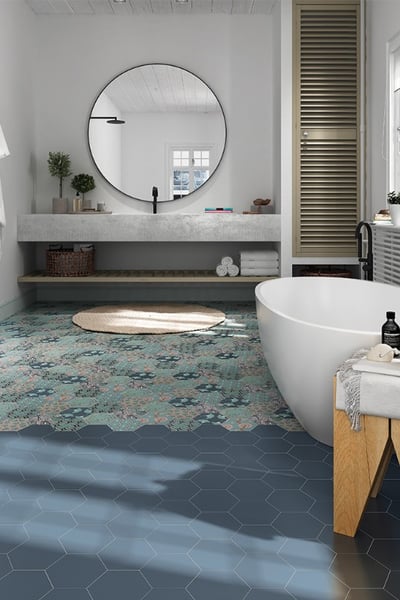 (above) Laguna - Mix Deco, 6x6.8 Field Tile in Navy
Concrete-Look Porcelain Tiles: If you want the look of concrete without all the headaches of concrete installation, these tiles are for you. They give the same strong functional elegance of concrete without the pain of scratches and stains. The concrete look is becoming a basic in today's contemporary rooms. There are many variations to this look. Koncrete Tiles / Cemento Tiles / Concrete Jungle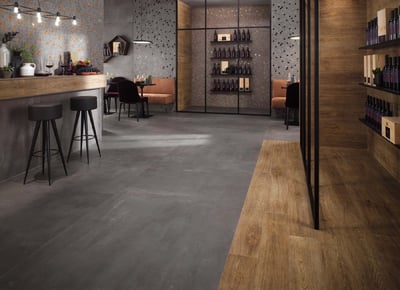 (above) Koncrete Porcelain Tile in color Smoke
One of the newest contemporary design elements being used today is the use of patterns:
Although the WHAT is important when planning your floor, the HOW can be just as instrumental in the final outcome. How you install your tiles can really change the appearance of your room. Even if you are using a classic floor tile, you can still make an impact by laying it in a Chevron or a Herringbone pattern. The final piece of the puzzle is the design concept of laying your room on a diagonal - same function, very unique form. Demure Tile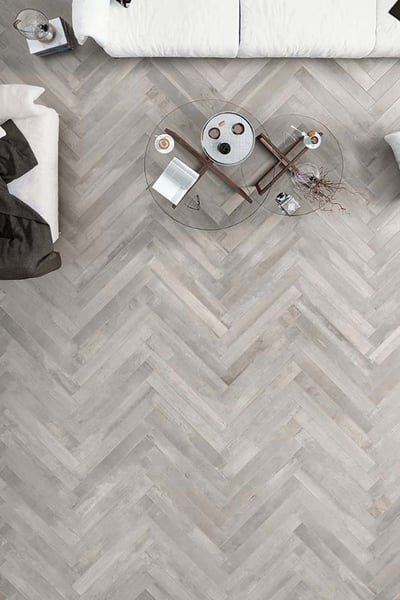 (above) Demure Porcelain Tile in color Grigio
Large-Format Tiles: To get a smoother more uniform look on your floor, you want to use the smallest amount of grout possible. To accomplish this, large format tiles are increasingly more popular. The "bigger-is-better" concept applies here, giving a clean, smooth look. Flooring tiles are now as big as 24x48 inches or 32x32 inches (or more). In smaller kitchens, install larger tiles, possibly hexagon shapes, to give a widening effect. Camelot Tile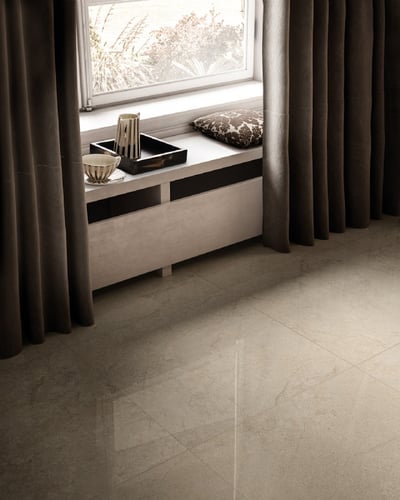 (above) Camelot 32x32 Field Tile in Sabbia
Where do You Find it All? GENROSE Stone & Tile
From residential to commercial, simple to complex, when it comes to finding the right flooring look, GENROSE Stone and Tile is your one-stop shop for Porcelain Tile and much, much more. All of the products mentioned above are only a small sampling of what is available from GENROSE. We are one of a very few stone and tile companies that have an assortment of in-stock tiles this large.
Still have questions? Reach out to one of the professionals at GENROSE Stone and Tile at one of their eleven locations, or visit us online at www.genrose.com
GENROSE Stone and Tile is an accredited fabricator with the Natural Stone Institute.