Rediscover Your Backyard
Enjoy the world of exterior living by adding a beautiful Outdoor Kitchen to your home. These outdoor retreats can display the same level of luxury that you demand in your home. With growing popularity, outdoor kitchens can significantly enhance the appeal, and value, of your home.

(above) Beautiful and Functional Outdoor Kitchen
Enhance your Outdoor Kitchen with Porcelain Pavers + Exterior Stone
In so many homes, the kitchen is an informal meeting place. With the help of GENROSE Stone and Tile, you can create that same casual gathering place outside while still having all the amenities of your home's kitchen.
Today's Outdoor Kitchens are the perfect marriage of form and function, blending beautiful architectural elements, materials, surfaces, colors and finishes with an abundant array of appliances and accessories - all designed to withstand the elements. Take this banquet-ready kitchen for example, with it's Exterior Stone accents and durable, stain-resistant Porcelain Pavers.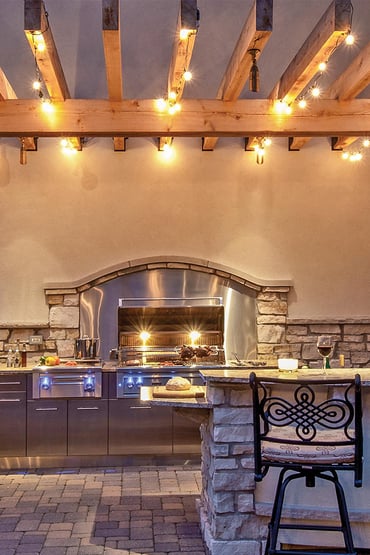 (above) Stainless Outdoor Kitchen
To bring your dream to life always seek the design and installation expertise of a professional company like GENROSE Stone and Tile. Quality Outdoor Cabinets are made with commercial grade 20-gauge stainless steel in multiple door styles with a variety of painted and wood grain finishes. All outdoor kitchens are custom designed for a signature look.
Natural Stone adds an elegant look to your design
Not limited to countertops, Natural Stone can be used in architectural and design elements like enclosures, niches, benches, walls, fireplace surrounds and even chimneys. Use the same Natural Stone or complementary material to create cohesion between different elements of the design.

(above) Natural Stone
The Porcelain Pavers add Proven Functionality
Exterior Porcelain Pavers provide a beautiful mix of aesthetic appeal and proven functionality. Connect your outdoor kitchen to your house with porcelain paver walkways, patios, and garden paths. Available in a variety of looks, colors, sizes, and finishes, these porcelain stoneware pavers provide excellent reliability and safety for any exterior installation.

(above) 2CM - Porcelain Pavers - Manhattan Grey
To start building your unique outdoor dream kitchen, contact the professionals at GENROSE Stone and Tile at one of our eleven Northeast locations, or visit our website at www.genrose.com .
Turn your dreams into reality... relax and rejuvenate, right outside your backdoor.
GENROSE Stone and Tile is an accredited fabricator with the Natural Stone Institute.