From paint colors, kitchen remodels, tiles and backsplashes, to furnishings, we have relished in the use of crisp clean white and infinite shades of grey in today's state-of-the-art home design. But as the new year rolls in, will the grey and white craze roll out?
Grey is defined as color "without color" or neutral, and as such it is a perfect match to any palette. White is the color of ultimate purity, wholeness, and cleanliness personified. In color psychology, white depicts new beginnings or a clean slate. It is no wonder that grey and white is customarily used as the default in one's comfort spot, their home.
Traditional, Transitional and Modern Grey and White Kitchens
When it comes to home design, the grey and white palette is used liberally in traditional, transitional and modern design applications.
(Image below) The grey and white kitchen by Giannetti Home perfectly blends the timeless character of traditional soft white cabinetry and its curved corners with the sleek look of the brushed silver chairs and range hood cover accent pieces. The thin porcelain wall and backsplash are versatile, and can be perceived as both traditional and modern. The wood-top center island is right on the mark, as mixed materials in kitchen design will trend in 2017.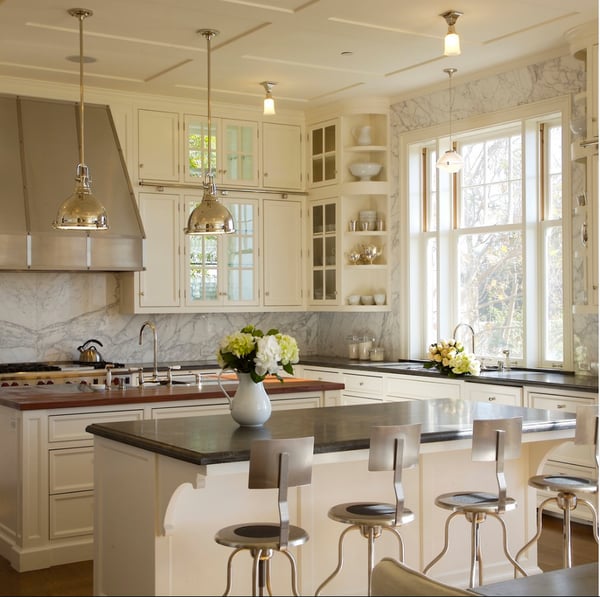 The Traditional Grey and White Kitchen

(Image below) The Grey and White cabinetry with a light grey glazing adds both dimension and a sparkle to this traditional style kitchen by Drury Design. The honed granite predominantly white countertop, with patches of grey hues, complements the diamond accent pieces in the backsplash over the cooktop, creating a kitchen design that is dignified. The green floral arrangements will bring in the new year with style, as Greenery is the color for 2017.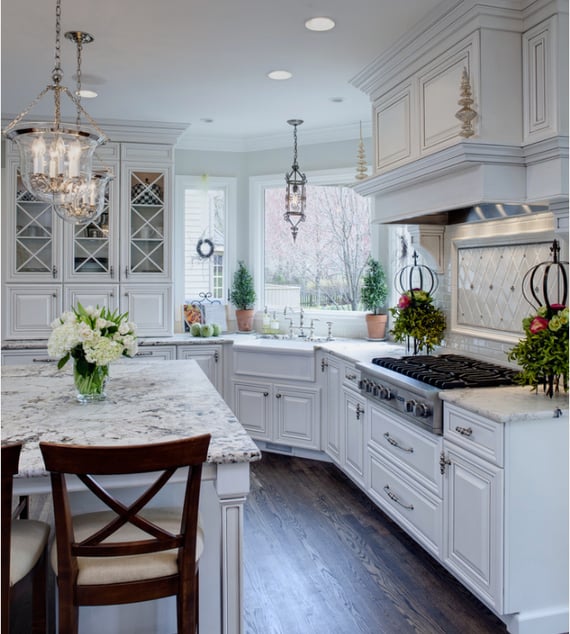 The Transitional Grey and White Kitchen
(Image below) Featuring a traditional shaker style center island and cabinetry, this stylish kitchen flaunts a wall of glossy white subway tile paired with stainless steel appliances creating a contemporary look with a vintage feel. Incorporating mixed materials and unique colored elements, as well as the detailed wall of subway tile, is in line with what will be trending in 2017. Design by Home Staging and Interiors/Joe Schmelzer, Inc. dba Treasurbite Studio, Inc.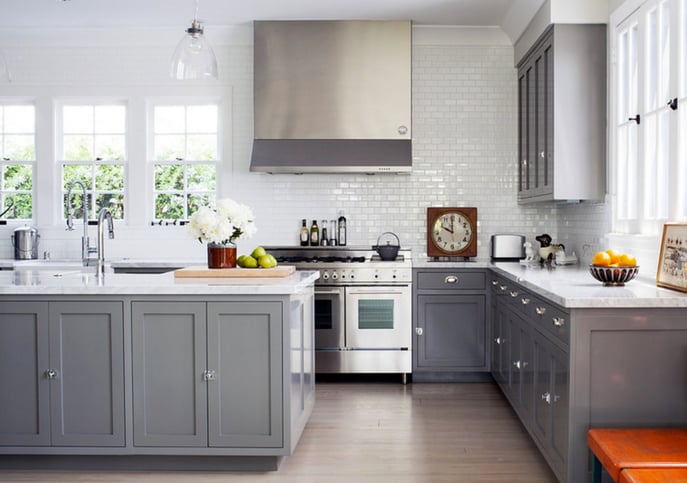 The Modern Grey and White Kitchen
(Image below) Dan Brunn Architecture incorporates minimalistic clean lines with the simple pleasures of endearing trinkets to create a homey open space. The added color, greenery, mixed materials and textures, natural elements and the waterfall leg, all align with what we will see in 2017.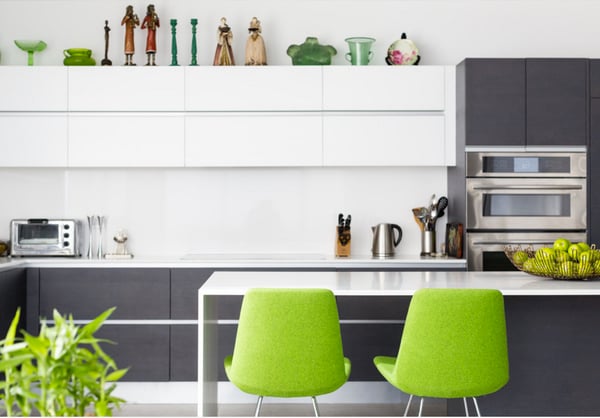 Introducing Beige to the Grey and White Kitchen
(Image below) The warm beige tones in the large pattern wall tiles are integrated to the grey and white pallet of this transitional kitchen by Kitchen Lab Design, one step forward into the new year.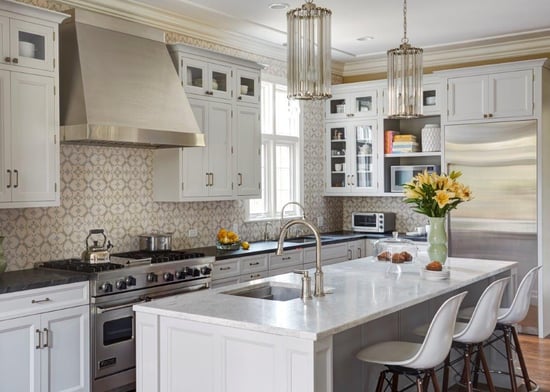 The most popular Design Trends for 2017:
All white kitchens with mixed material accent pieces
Clean lines - waterfall leg countertop and topzero sinks
Detailed kitchen backsplashes
Introducing "Greige" (Grey Beige) tile to the grey and white kitchen
Large patterns in tiles
Incorporating warm natural materials
Pantone color of the year, Greenery, a touch of nature and a chance to simplify
In traditional, transitional or modern home design, it is safe to say that white and grey are here to stay, with a few new elements for warmth, character and comfort.
For more inspiration and tile and stone options peruse Galleria Stone and Tile's inspired spaces and collections pages and discover what is right for you.