If the pandemic has changed how we clean (and how much), it has also changed how we use our home. When considering hygiene in your home, be careful to take all of your surfaces into account, from the floor to the walls, from the countertops to your outdoor patio.
Ceramic tile is one of the healthiest flooring and wall choices available—easy to clean, free of harmful irritants, and sustainable—all without compromising on artistic versatility.
Ceramic tile's low-maintenance benefits make cleaning easy, so you can clean up most messes merely by sweeping, wiping with water, and drying.
Health & Hygiene Tile Advantages
Our kitchens carry the brunt of our home life as we spend more time cooking and cleaning than ever before and rely on our kitchens for new activities that don't have dedicated spaces. Many of us may have realized that our kitchens weren't quite ready for the challenge.
The pandemic experience has likely increased your appreciation for an optimally functioning kitchen and any improvements you make to your kitchen will improve your daily life long-term.
Consider reflecting on your experience thus far and how to make your kitchen easier to clean, use, and maintain so that it's supporting you, and not the other way around. We have a few ideas of our own to get you started.
The increased use that your kitchen is seeing requires what probably feels like constant cleaning. As soon as you clean up after one meal it's time for another, and so the cycle repeats itself.
Likewise, maintaining a healthy environment in your bathroom is important for the well being of your loved ones. This area, which is optimized for our personal hygiene and health, should be as clean and hygienic as possible.
The biggest concern for areas that tend to be exposed to high amounts of moisture, such as bathrooms, is bacteria growth. Ceramic tile surfaces discourage bacteria, as well as mold and mildew growth. In addition to being antibacterial, ceramic tile offers options that are antimicrobial and can suppress and even destroy harmful microorganisms, such as mold, fungi, bacteria, and viruses. Ceramic tile has healthy advantages that make living in a hygienic world easier:
Easy to clean:

Wiping with some soap and water

is all that's needed to clean up most messes — no harsh chemicals are necessary.

Antibacterial: inhospitable to the growth of bacteria.

Antimicrobial: options are available with antimicrobial properties that can suppress and even destroy harmful microorganisms, such as mold, fungi, bacteria, and viruses.

Hypoallergenic: contains no allergens, and allergens in the environment such as dust, dirt, and pollen can't penetrate porcelain's nonporous surface.

No volatile organic compounds (VOCs): VOCs are harmful gases that cause various health concerns and are emitted by virtually all flooring types except ceramic tile.

No formaldehyde: Some wood products contain formaldehyde (a chemical that contributes to asthma and other respiratory disorders), but not ceramic tile.

No polyvinyl chloride (PVC): free of PVC, a resin found in many vinyl flooring types. PVC contains phthalates and organotins, both regularly a subject of concern among health experts.

No plastic: The health and environmental concerns associated with plastic aren't an issue for ceramic tile.

Nontoxic: doesn't emit any toxic fumes when exposed to fire.

Naturally occurring materials: a healthy choice for both you and the environment.
You may have learned the hard way that being easy to clean is just as important for a surface as being stylish. In fact, you'll probably find your surfaces less and less appealing the more you have to scrub them. Low-maintenance cleaning is crucial to a post-pandemic dream kitchen and ceramic tile is a model example of low maintenance. Beachfront Tile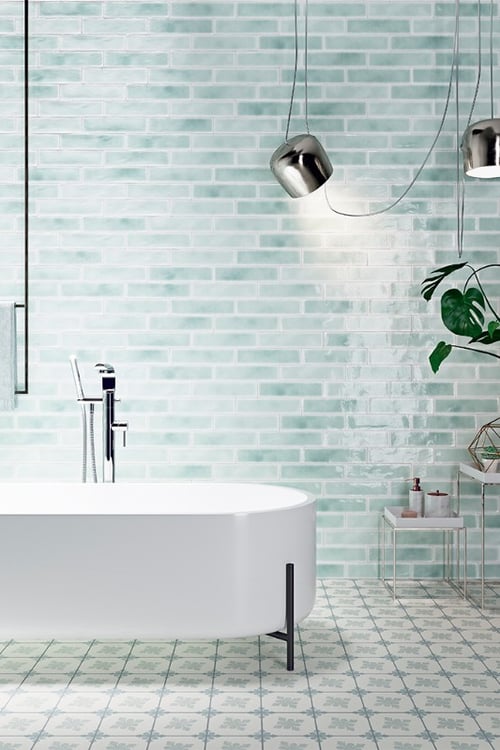 (above) Beachfront Ceramic Wall Tile in Acqua
Tile Benefits for a Healthy Planet
The materials used to make ceramic tile are often sourced within 500 miles of manufacturing facilities, significantly reducing the emissions and energy associated with long-distance shipping. Ceramic tile's durability allows it to be used for generations, and because ceramic tile is made from naturally-occurring materials, it typically qualifies for use as clean fill at the end of its long life cycle.
Recycling
Pre- and post-consumer recycled content available
Salvageable
Can be salvaged in a major renovation and repurposed
Can be typically used as clean fill
Reusable as construction filler

Does not contribute to growing landfill issues
Lowest carbon footprint of any flooring material in North America
Lowest global warming potential

Lowest fossil fuel resource depletion
Durable
Life span of 75+ years

Lowest life cycle cost compared to other flooring materials
Energy-efficient
Inherent thermal mass reduces peak heating and cooling to help lower energy costs

Creates the possibility of natural conditioning for more stable and comfortable indoor environments
San Marino Evolution Ceramic Tile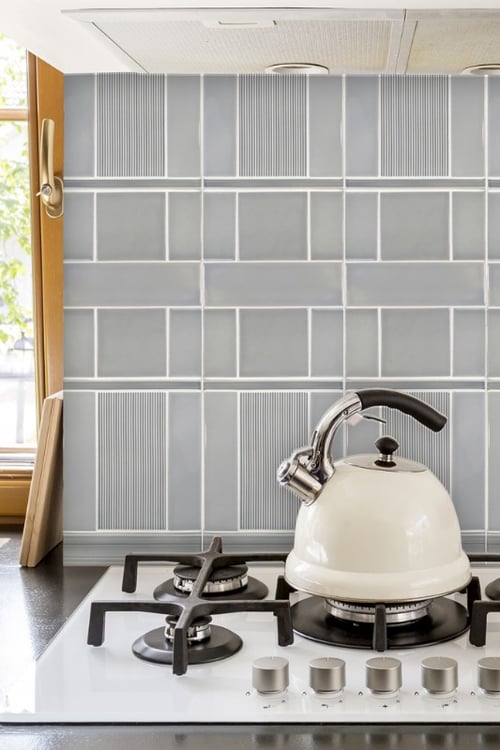 (above) San Marino Evolution Ceramic Tile
Healthy Cleaning is Simple
Unlike many other surface materials, ceramic tile won't fade or dull from harsher cleaning chemicals and disinfectants, should you need to use them occasionally. The Environmental Protection Agency has a list of registered cleaning disinfectants you can consult. Should you not have any of these registered products, some common household products—including simple soap and water—can also be effective disinfectants. Each cleaning agent may be more or less effective towards a particular virus or bacteria.
No.1
Step one in caring for your tile is to sweep it! Get in there and get all the mess that's in dry form off your surface the old fashioned way. You may also wish to invest in an electrostatic cleaning tool (one brand name is "Swiffer") to remove minute debris, giving you the cleanest start possible.
No.2
From there, clear, clean water is often all that's needed to clean your tile. If you find you must use something stronger, turn to a neutral cleaner made specifically for grout or tile, or a mildly alkaline detergent (i.e., Mr. Clean, Spic and Span).
No.3
Stay away from using harsh cleaners on a regular basis. The effect of using cleaners with a high pH (bleach – alkaline) or low pH (vinegar – acidic) over and over is that they may break down some sealers which are there to help prevent soap scum, oils, and dirt from penetrating into the grout.
No.4
Always rinse with clean, clear water after cleaning to remove any residue. Any residual cleaner, soap, or detergent must be removed to prevent it from leaving the tile dull and susceptible to more rapid soiling.
No.5
Nylon or plastic scrubbers are handy and generally won't scratch. These are great tools for helping care for your tile and grout.
Healthy and Easy Tile Maintenance
During the COVID-19 pandemic, our kitchens have been carrying the brunt of our home, work, and (un)social lives as we use them as our new go-to space. For many of us, this increased time spent in the kitchen has come with an increased awareness of its shortcomings.
Ceramic tile's superior performance means less mess and more peace of mind. Whatever life throws on your surfaces, you're ready for it.
Unlike many other surface materials, ceramic tile offers options that are:
Stain-resistant: Your life is bound to see many messes—ceramic tile doesn't stain easily!

Water-resistant: Liquid spills can ruin other materials.

Scratch-resistant: Dents, scrapes, and cuts often seen in other materials aren't the same danger for ceramic tile, even after years of heavy use.

Inhospitable to microbes: Ceramic tile's fired surface means that the bacteria, mold, and mildew cannot settle and grow.

Easy to clean: You can easily clean ceramic tile merely by sweeping and/or washing with water.

Fade-resistant: Ceramic tile does not fade, so you can feel free to redecorate and move your furniture at any time.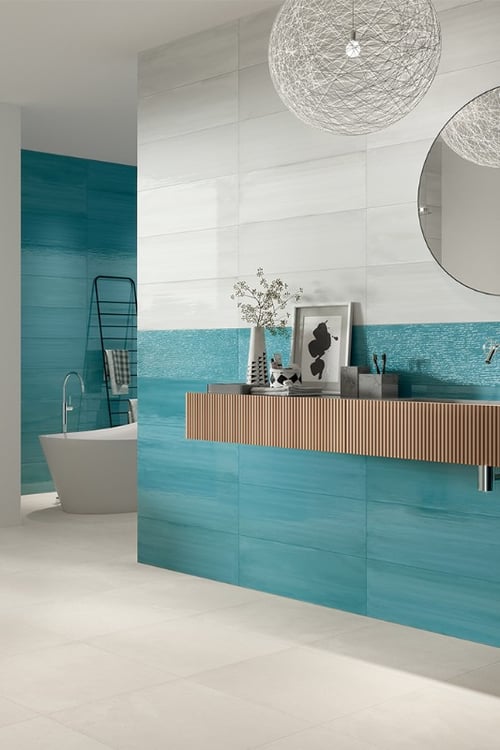 (above) Santorini Field Tile in Ottanio and Bianco

Healthy Home Environment
Sheltering in place and social distancing means spending more time in our homes in general, so why focus on the kitchen specifically? The kitchen is where we spend most of our active time at home (even during normal life), and a global pandemic has only made this more true.
Of course, now more than ever, we know the importance of maintaining hygiene; it's not just a matter of cleaning up spaghetti sauce splashes and wiping away sticky fingerprints. When considering hygiene in your kitchen, be careful to take all of the surfaces into account, from the floors to the countertops, appliances, cabinetry, faucets, and sink.
Many surface covering options contain harmful pollutants that we may be especially wary of. Ceramic tile contains none of the following contaminants and can help you create a healthy living environment:
Volatile organic compounds (VOCs): Some VOCs emitted by nonceramic building products can contribute to a wide variety of health problems, including "

sick building syndrome

." Because ceramic tile is produced (fired) at extremely high temperatures, producing what is called an "inorganic" material, it has zero VOCs.

Allergens: Ceramic tile's hard-fired surface won't absorb dust mites and is also inhospitable to bacteria, fungi, mold, and other irritants that contribute to allergies.

Formaldehyde: Formaldehyde is a chemical associated with various respiratory issues, including asthma. This can be a concern for some materials, such as wood products that use formaldehyde. Ceramic tile contains none of the formaldehyde found in some other products and it is not subject to these concerns.

Polyvinyl chloride (PVC): PVC is a resin used in some vinyl flooring and is regularly a subject of concern among health experts and builders. Ceramic tile is free of PVC.

Plastic: Ceramic tile contains no plastic and has none of the health or environmental concerns associated with plastic.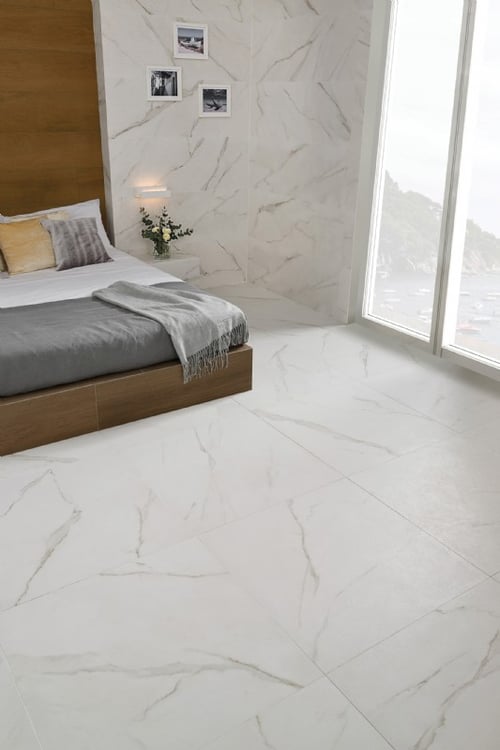 (above) Mara Field Tile and Wall Tile in White
Healthy Outdoor Living Spaces
Ceramic tile is one of the most eco-friendly design choices for outdoor living spaces, allowing you to build alongside nature without causing nature any harm. This starts with the fact that ceramic tile introduces no harmful materials or toxins into the earth — no plastic-based materials, volatile organic compounds (VOCs), polyvinyl chloride (PVC), or formaldehyde.
Porcelain tile is "impervious" ceramic tile, fired at a higher temperature and for a longer time than regular ceramic tile. These qualities make porcelain tile durable, stain-resistant, and the least absorptive type of ceramic tile — ideal for exterior applications. Porcelain Pavers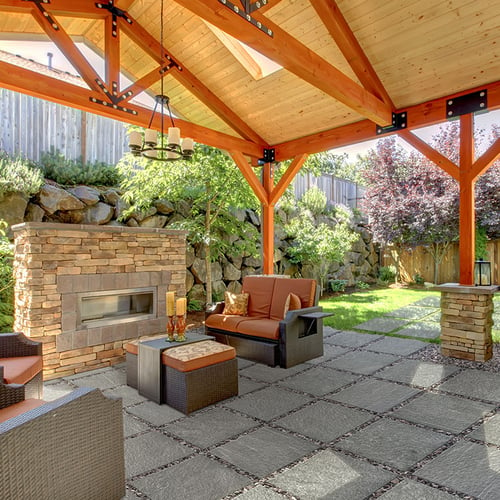 (above) Porcelain Pavers in Manhattan Grey
Source: WhyTile.com
It is important to deal with a professional tile and stone dealer before making any decisions. Contact the professionals at GENROSE Stone and Tile at one of their eleven Northeast locations, or search their website at www.genrose.com to start building your dream.
GENROSE Stone and Tile is an accredited fabricator with the Natural Stone Institute.