When starting your tile flooring project, there are a few things to keep in mind to ensure that your flooring is not only beautiful, but also durable. For proper installation, tile flooring needs to be set on a subflooring known as backer board.
What is backer board?
Backer board is the foundation to set the material on, in this case, tile. Backer board can be in the form of a variety of products from different manufacturers. The main categories of backer board are: Cement board, Fiber cement board, Glass mat gypsum board, Water-resistant drywall, Styrofoam base backer board or two layers of plywood with a new product known as a thin, lightweight, plastic underlayment system or uncoupling membrane. The main choice for the backer board is where it is being used, wet or dry areas such as a bathroom or a hallway.
Fiber cement board

is a thin layer of concrete that is installed as a sturdy surface subfloor for tile setting. Backer board is made up of a sheet of cement mixed with sand that has a fiberglass mesh placed on each side of the board for durability. It serves as solid surface for the thin-set mortar to adhere to for a solid tile-to-floor bond. Backer board comes in 3 x 5 foot sheets in a variety of thickness ranging from 1/4" inch to 5/16". Fiber cement board is water resistant.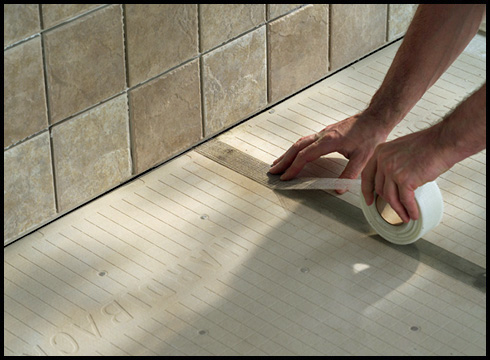 Cement board

is substrate made of cement and fiber. It comes in ¼" to ½" thickness and it is used as an underlayment for wall tile.

Floor istallation requires that the total thickness of the substrate must be minimum of 1¼ " prior to setting tile as per the TCNA / Tile Council of North America

. Cement board can also be used on exterior applications.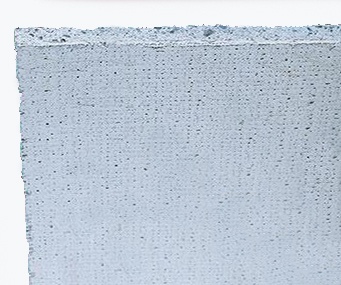 Glass mat gypsum board is made from water-resistant silicone-treated gypsum reinforced by fiberglass mats on both sides. It works well in damp areas such as tub surrounds. It is available in ½" and ¼" thick 4x5' sheets. The drawback of this product is that it will soften if water gets behind the waterproof surface.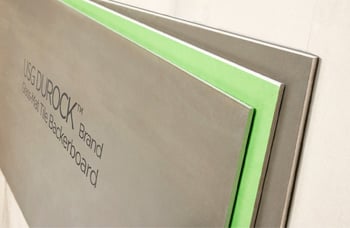 Styrofoam base backer board

is a strong, incredibly lightweight, waterproof and vapor retardant tile base for wet areas that is easy to cut and dust free.
Plywood,

(2 layers) need to be a total of 1⅛" thick before the backer board/ uncoupling membrane can be installed. Plywood will expand and contract with temperature changes and tiling right over plywood alone will cause the grout and tile to crack over time.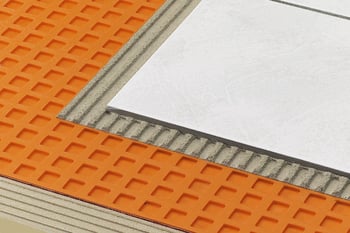 What is an uncoupling membrane?
An uncoupling membrane is a term used in the tile trade for a crack isolation system. More recently products such as the Schluter-Ditra use a thin, lightweight plastic underlayment system that is geometrically configured to provide air space between the tile and the substrate to allow independent movement between the two, and limit the transfer of stresses. An uncoupling membrane such as the Ditra prevents cracking of the grout and tile due to its lateral flexibility just like other types of backer boards if installed correctly. An uncoupling membrane such as Schluter-Ditra can be placed over plywood, concrete or even existing vinyl. It is available in ⅛" or 5/16" thickness.
Can I tile my floor without using a backer board or an uncoupling membrane?
The decision of placing tile on any other surface can result in a variety of problems:
Tile placed on wood can buckle due to moisture absorption and cause hazardous mold conditions.

Hardwood flooring will expand and contract with the temperature changes such as humidity, creating an unstable platform for the tile.

Sub-floors such as old linoleum and the flooring beneath may contain air pockets, and cause other problems due to moisture, weight and movement.
Starting a new project with the right materials is the first step to successful tile installation, preparing the surface is the second. For long lasting, best results, it is highly recommended to choose and apply the most appropriate type of backer board for the job, prior to tile installation.
NOTE: The N.T.C.A. / NATIONAL TILE CONTRACTORS ASSOCIATION has approved the following products for proper tile installation: Plywood, Backer board, and a lightweight uncoupling membrane, as well as liquid form thinsets and fabric products that act as a crack isolation membrane. The baseline to install tile requires that the total minimum thickness of the subfloor and underlayment is at least 1⅛". This can be achieved with a joist span of 16" on center with the materials intact and not loose. Always consult with the manufacturer's literature for specific application details.