Purchasing stone countertops is an important move which can add beauty and significant resale value to your home.
Without an accurate measurement of the size of your stone countertop project, you will not be able to get an accurate quote from a stone fabricator. The more detail and accuracy you put into the layout and measurements, the less surprises you will encounter down the road. GENROSE Stone and Tile will provide all the steps you need to properly measure for stone countertops.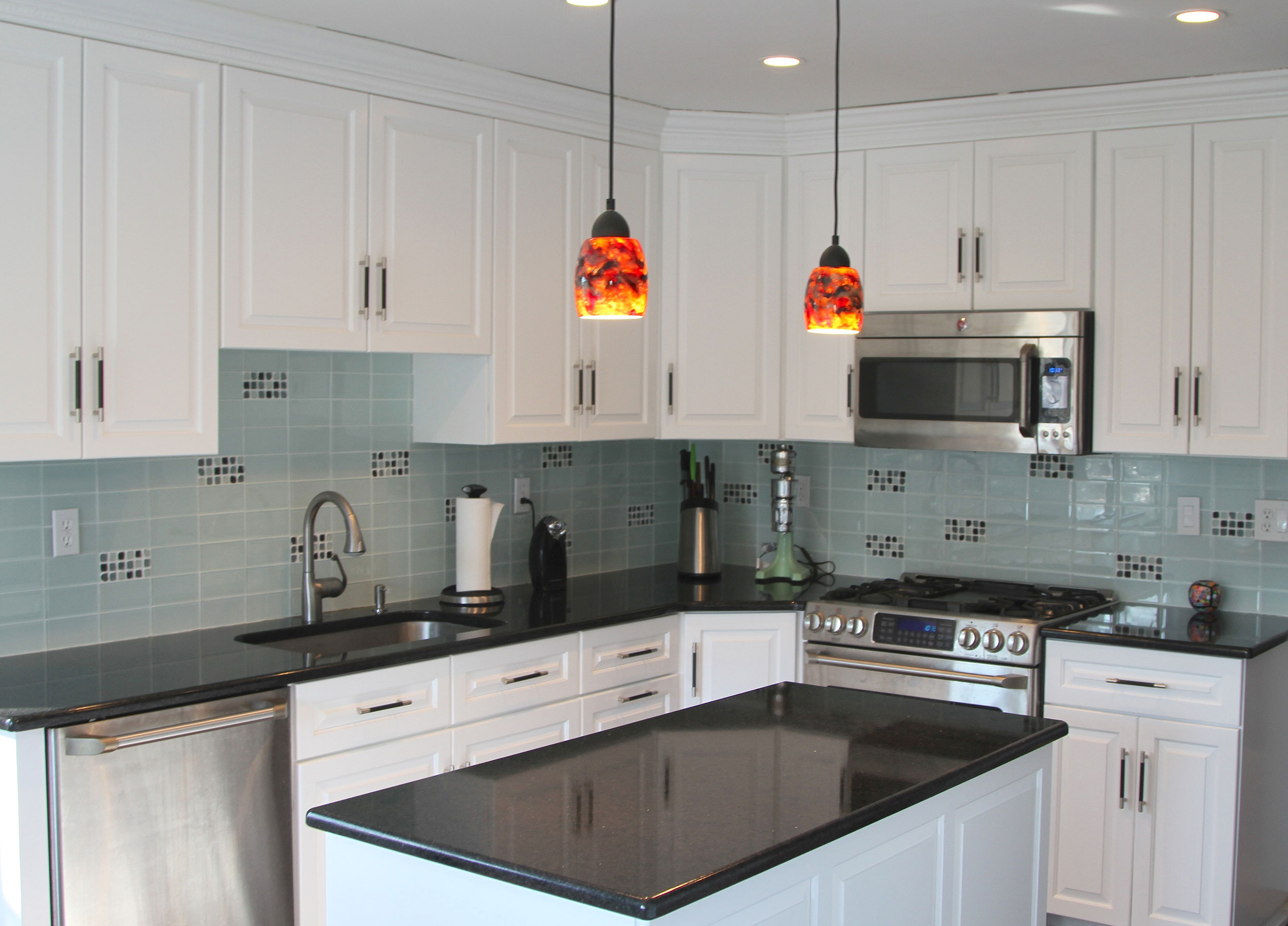 You will need a drawing of the basic layout of your countertops, including islands and any other pieces. A few basic tools are all you need: paper, a pencil, a tape measure, and possibly a calculator. The drawing does not have to be exactly to scale, but the measurements must be accurate. Always measure twice!
How to Detail Your Countertop Drawing
Once you have the diagram of your countertop space, mark the sink location and indicate if it is a single, double bowl, or farm sink. Also note if it is a top mount or under-mount sink.

Now mark the location of your range and indicate if it is a free-standing range, slide-in range, or a cooktop. (The measurements MUST include the areas for the cooktop and sink. Do not exclude these measurements.) Also include the other appliances in the diagram.

Note on the diagram any area that does not have a countertop like a refrigerator or a pantry.

In the diagram, note where you want radius (rounded) corners or clip corners.

If you have a seating area, indicate the countertop 'overhang' length x approximately 15" depth.

Indicate anywhere you want a diagonal or splay corner (corner sink). Show the dimension of the diagonal.

Note on the diagram using a double-line where back splashes or side splashes are desired. Also note where walls are with a 'W'.

Use the tape measure to measure the countertop

length

from wall to wall.

Use the tape measure to now measure the countertop

depth

from the wall (including the back splash). Most countertops have a standard measurement of 25.5" allowing for an overhang over a 24" base cabinet. Mark these

length

and

width

measurements clearly on your diagram.
Important additional steps that will insure a more accurate quote
On the diagram, note all finished edges with an 'x'. The fabricator will need to know which sides of the completed stone countertop needs to be finished.
Note what edge type you want on your finished edges – Square, Eased, Bevel, Bullnose, Demi-Bullnose, Ogee, or Mitered. Pricing for different edges may vary.
Measure your back splash height (not necessarily what exists today, but what you want in the new kitchen).
Supply the stone fabricator with digital photos as well as your drawing when possible.
Important point – stone countertop slabs typically measure 120" x 55", but can vary considerably.
To get your total measurement, you take the Length x Width of each section and add them together (don't forget the height of the back splash x length of the countertop). It is not unusual to need two slabs for a normal kitchen.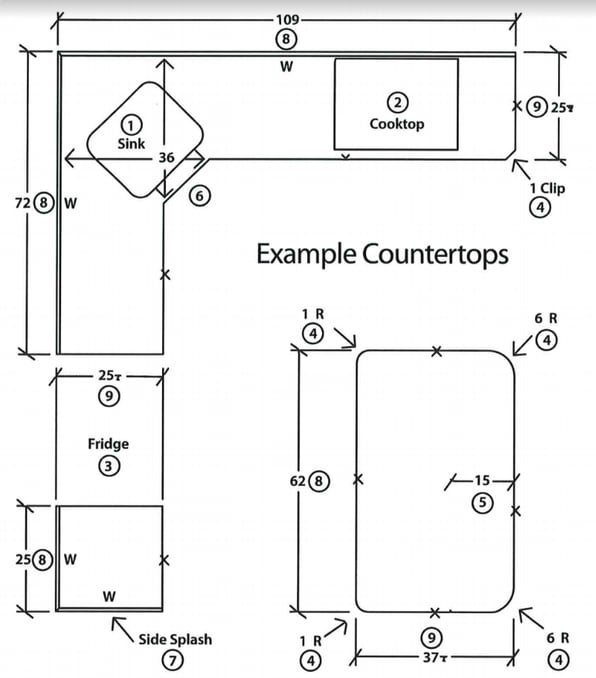 Seek the Help of an Experienced Fabricator
You need to partner with an experienced stone fabricator like GENROSE Stone and Tile who will guide you through the entire process and answer those tough questions. Our experience and knowledge will help make this project everything you dreamed of. Most of the top fabricators employ their own installers or partner with known expert installers who are held to a higher standard of quality, so you do not have the worry of inexperienced sub-contractors. It is always recommended that you pick out the slabs in person at the fabricator since samples will not always be a true representation of the veining or other color variations in the slab.
GENROSE Stone and Tile with locations across the Northeast, is a design-driven company, providing standard, unique, and custom-designed surface materials. Our USA manufacturing divisions which produce handmade ceramic tile, stone fabrication, mosaics, and cut-to-size tile, provide a resource to overcome traditional sourcing obstacles. Using a combination of the best technology and equipment in the world together with the superior workmanship of our design professionals, GENROSE can do anything in the realm of stone fabrication.
Contact the professionals at GENROSE Stone and Tile at one of our eleven Northeast locations, or visit our website at www.genrose.com to start building your dream.
GENROSE Stone and Tile is an accredited fabricator with the Natural Stone Institute.