There are many products used by contractors when installing bathroom ceramic, porcelain or natural stone wall or floor tile. Grout is one of those materials. Each contractor has a favorite grout product that has achieved a desired results. Therefore when it comes to maintaining a beautiful and clean looking bathroom, it can be a daunting task for the homeowner to know what to use to maintain the grout after the installation is complete.
If possible, it is wise to ask the contractor what product has been used in the tile installation. If this information is not obtainable, there are many options in keeping bathroom grout looking as new and beautiful as the day it was installed. For regular cleaning it is important to use a tile and grout cleaner that is ph neutral.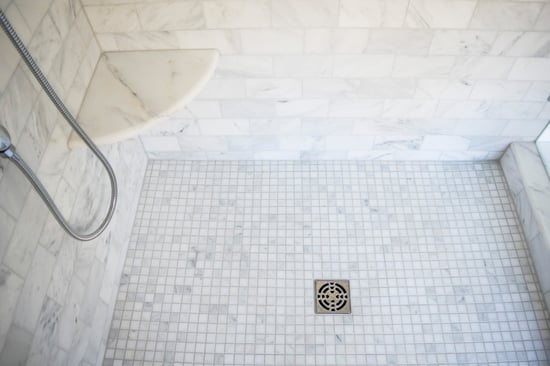 What about Grout?
The most commonly used grout is cement-based which is inherently porous. It is mixed with water to create a spreadable paste and applied between the tiles for a clean finished look. Bathroom products such as hair color, colored soaps and shampoos along with natural oils can leave stains that are embedded into the grout. Some stains can be removed with tile and grout cleaner, while others, the deep-set stains can be difficult to remove and would most likely involve chipping out the old grout and replacing it with a new mix. It is for this reason that cement based grout needs to be sealed upon installation and then again to periodically maintain it.
What Type of Sealer Do I Use on my Grout?
There are Two Types of Sealers:
Sealer 1. This sealer is built right into the grout. The advantage of using a grout with a built in sealer is that once it is dried it is protected. If you are currently working on a project, there are many brands to choose from when selecting a grout that includes a sealer. Here are some of the industry's well known brands for the easiest maintenance and long lasting performance:
TEC Power Grout,

is known for being highly stain resistant for a long length of time depending on usage, typically up to 3 years before needing to be resealed.
Miracle Sealants carry a grout additive called Grout Shield that mixes with the grout instead of water for added sealing action.
New to the market, MAPEI Ultracolor Plus CA. Grout includes a sealer.
Mapei Flex-Color CQ. is a quartz aggregate premix grout that is good to use with natural stone because the the grout color will not bleed into the natural stone tile during application. This grout also includes a sealer and can be used for ceramic and porcelain tile installation.
Sealer 2. This sealer is applied to grout that has been installed and needs to be maintained. Here are some of the easiest to use:
Miracle Sealants carries a water and stain protection Grout Sealer product that comes in an 6oz. bottle and applicator that is used on cementitious grout joints. Simply brush the sealer on the grout lines and let dry.
Miracle Sealants 511 Spray

on Grout product provides protection for new and old grout, forming an invisible barrier that is resistant to moisture and staining. Just spray on the grout joint and wait a few minutes. Wipe off the access with a paper towel to a buff shine.
Grout Refresh seals and colors the grout, thus hiding the existing stains. Easy to use, simply clean the grout joints and then apply the product. Let it dry as per the manufacturer's instructions and wipe off the excess.
There are many great products on the market today, we mentioned just a few, and it can be difficult to determine which product is best for your application. For this reason looking to a reputable manufacturer is a great place to start. Miracle Sealants, TEK, Aqua, Mix, Dupont and Mapei all make great products for a variety of needs. When selecting a grout/sealer product consider...
Some Important details to look for in a grout sealer:
Purchase your grout/sealer from an authorized dealer to ensure that you are getting the right product for the job.
Check that the sealer you select will not alter the natural look of the grout.
Lastly, after selecting the grout/sealer product, always read through the directions thoroughly before applying to obtain the best results. And always test a small area as results may vary depending on the materials the sealer is applied to.