For many people the value of their house seems like something beyond their control. But, there are many different things you can do to increase the visual appeal and market value of your house. However, not all home renovation projects are equal. Studies have repeatedly shown that remodeling your kitchen and bathrooms are the best investments you can make when it comes to home renovation projects.
Homeowners, house flippers, and real estate investors that want to get a solid return on their investment use durable, beautiful, and high-quality materials when doing a remodel.
Kitchen Remodels That Earn Back Your Investment
Kitchens are the heart of a home. When remodeling a kitchen with an eye to increasing a homes value, you need to balance visual appeal with functionality. There are five main areas that you should focus on when remodeling a kitchen:
Floor
Sink
Countertops
Cabinets
Appliances
Floor
Kitchen floors have to endure a lot of ware and abuse. They should be easy to clean, stand up to heavy foot traffic, and be resistant to damage from things falling on them. Tile is the most popular choice for modern kitchens.
Tile comes in a variety of colors and finishes. They are relatively easy to install and they are built to last. Unlike other types of flooring, another advantage of tile is that it is cheap and easy to repair. If an individual tile is chipped or damaged, it can be replaced—instead of having to rip up the entire floor.
Tile won't absorb moisture, smells or bacteria. Many types of flooring will quickly show signs of heavy foot traffic as people travel over the same paths over and over again. But, tile is resistant to these signs of ware. They can withstand pets, children, and anything else you can dish out.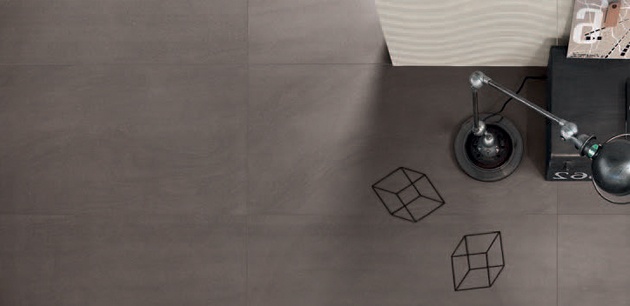 Encounter - Porcelain Tile - 12x24 Floor Tile (Click the image to learn more)
Sink
When you are looking to install a new sink with an eye towards increasing the value of the home, you need a sink that is not only functional, but also will give your kitchen a sleek, modern look.
In most kitchens you will find an undermount stainless steel sinks. The problem with undermount sinks is that have a ridge that not only disrupts the look of the countertop, but is also the perfect breeding ground for bacteria. Food gets trapped under the lip of the ridge. It is hard to keep the area clean. Water also often gets trapped in this area. Over time it can cause odors and discoloration around the ridge.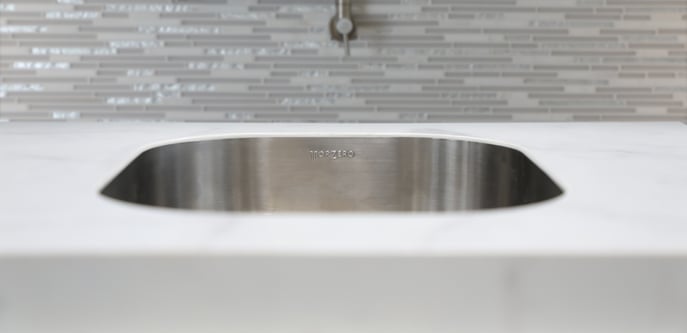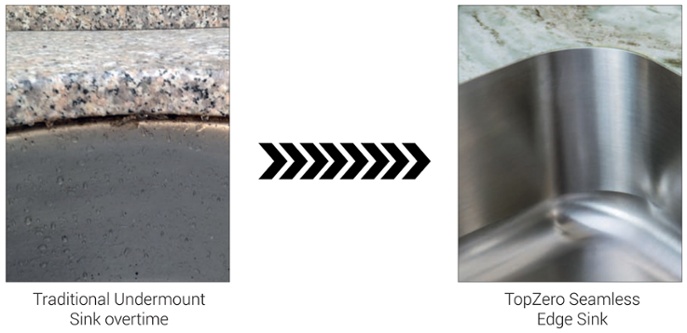 Sample images of TopZero Seemless Edge Sinks shown above.
There is a new alternative to the traditional undermount sink. The TopZero edgeless sink has no ridge or edge. It makes the entire counter space look sleeker. Most importantly, TopZero sinks are easier to clean and maintain. They are more sanitary because there is no edge for moisture or food particles to get trapped. This leads to less bacteria growth, a better smelling sink, and a happier homeowner.
Countertops
Next to your kitchen floor, your countertops take up the most surface area in your kitchen. Countertops should compliment the floor, and should showcase a little personality. The key to a kitchen that pops is one that leaves an immediate impression on a person the first time they enter the space.
Like flooring, you have a lot of different choices when it comes to picking a countertop. Granite and quartz countertops are the two most popular choices because of their natural beauty and their durability.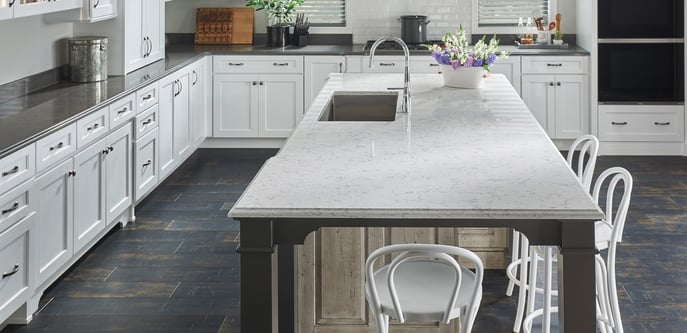 SatinStone - Minuet - shown above. (Click the image to learn more)
SatinStone is a great option for countertops. They look great, feel great and perform great. These materials have a higher scratch, etch and stain resistance than their conventional rivals.
Whatever countertop you choose, you want to make sure it coordinates with the floor and the cabinets to create a space worthy of being the heart of the home.
Cabinets
Replacing the kitchen cabinets is often where kitchen remodels go over budget. While you want to make sure your kitchen cabinets match the new floor and countertops, you don't have to replace all your cabinets. There are several ways you can update cabinets to freshen up the look of the kitchen without having to replace them.
Instead of getting all new cabinets consider:
Painting your existing cabinets
Remove the doors on some cabinets to create fun shelving
Change the cabinet pulls
Add a cut our or insert in the cabinets
Add task lighting underneath the cabinets
Refacing your kitchen cabinets
Cabinet re-facing may be a good option for you if you like the layout of your kitchen but are interested in changing the cabinets. This service requires less time than a full kitchen remodel.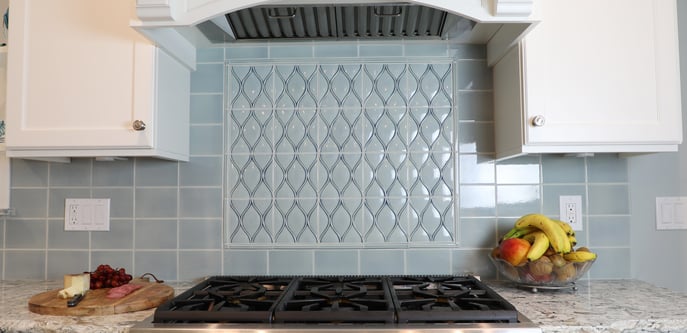 Quemere Designs - Handcrafted Tile - Backsplash - Click the image above to learn more.
Another alternative to remodeling your cabinets is to add a backsplash. This will add more flair to your kitchen and create a focal point along the wall tile.
Using one or more of these ideas will still give you a nice modern look, without breaking your kitchen remodel budget.
Appliances
New, coordinated appliances can be a nice bonus for a future homebuyer. If you are remodeling the kitchen with an eye to making a profit, appliances in one area where you can save some money.
You should purchase high quality appliances with a solid reputation, but you do not need to install appliances worthy of a professional chef.
Consider installing energy efficient appliances. You may be able to benefit from a tax break and use the energy savings a selling feature for future buyers. If you are going to replace the appliances, make sure to get coordinated appliances that match the new aesthetic of the kitchen.
Bathroom Remodels That Earn Back Your Investment
Maybe it is because bathrooms are such small spaces compared to the other rooms of the house, but buyers have a way of noticing all of the details in the bathroom when they are touring a house. Whatever the reason, remodeling the bathroom is a great way to increase the value of your home.
If you want to make a profit on your bathroom remodel you will want to focus on the following five areas:
Floor
Counter
Shower
Sink
Cabinets
Floor
Bathrooms are tricky. Because of their primary purpose, they can be breeding grounds for bacteria and smells. The floor of your bathroom has to be able to resist harboring disease-causing bacteria, look great, and standup to constant exposure to moisture and heavy foot traffic.
The best choice for a bathroom is a high-quality tile floor. When tile is properly installed in a bathroom it will be easy to clean, will not allow water to seep into any seams, and will stand-up to virtually anything.
Tile also gives you the freedom to choose from a wide variety of colors and patterns. You can use tile to give a bathroom a personality that sets it apart and makes it appealing.
Tile can also be used around the edge of the floor instead of a baseboard. This has the advantage of making the bathroom easier to clean. Tile will hold up better than a wooden baseboard in the bathroom.
Counter
Just like in the kitchen the bathroom counter takes up a lot of the surface area of the room. It needs to look great. It also needs to be easy to clean to help keep the bathroom sanitary.
Stone surfaces tend to work best. You could use slabs or tile for the bathroom counter. Smoother edges are more visually appealing and look more modern than square countertops.
You want a bathroom counter that compliments the floor. It can be used to add come contrast to the room. For example a light bathroom counter can enhance the look of a dark tile floor.
Shower
When you are going to redo your shower, you need to think about what will appeal to a future buyer. One of the fastest growing segments of homebuyers is older men and women looking to downsize.
One way you can appeal to this demographic, without sacrificing on any aesthetic appeal is to use the new ClearPath curbless shower system from FinPan. This system is easy to install, and makes the shower safer for people with limited mobility. It is available in several different fashionable colors and styles.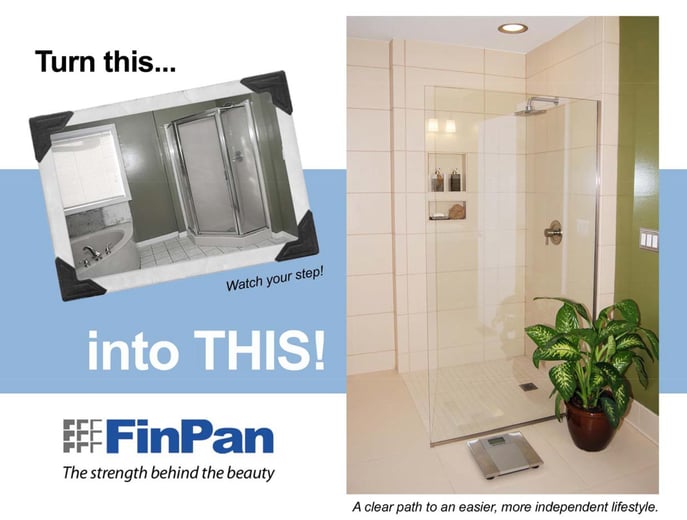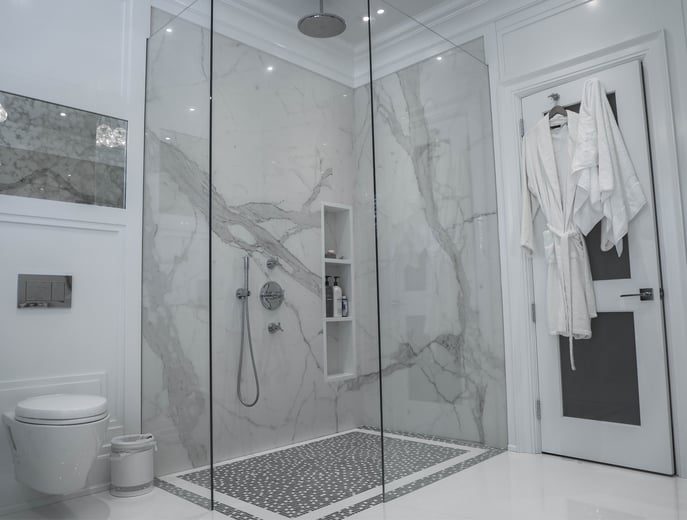 The ClearPath curbless shower system also will keep the moisture from the shower off your floor.
Sink
Your bathroom sink needs to compliment your countertop and also be functional. Your choice in a bathroom sink will have a lot to do with what you choose for our countertop.
Because bathroom sinks are relatively inexpensive, don't be afraid to be bold with your choice of a sink. Something that gets the job done, but is visually appealing and not just a standard sink will leave a good impression on buyers and will help you increase the value of the house.
Cabinets
You have less cabinet space in the bathroom than in the kitchen. That means that replacing all of the bathroom cabinets is not the budget buster that it is in the kitchen. However, the same budget saving tips that worked in the kitchen will work in the bathroom
Because of the smaller space, the color of your cabinets will have a big impact. The safest path is to choose neutral colors for your cabinets that compliment the floor and walls.
Remodeling your bathroom and kitchen to increase the value of your house requires a different approach than simply remodeling to just for the sake of remodeling. You need to focus your budget on the updates that are going to have the biggest impact on future buyers such as floors and countertops.
We offer all of products mentioned above here at Galleria Stone and Tile. If you would like to learn more about any of the products above or need assistance with any of your home design needs, visit our website here or contact us by clicking here and one of our representatives will be in touch!