Do you always wake up on brisk winter mornings having to step onto a cold floor with your bare feet? Have you been trying to find ways to save on your energy bill?
Surprisingly, heated floor systems can fix both problems. Heated floors were typically seen as a luxury, but now the times are changing. Heated floor systems actually provide more heat coverage by the square foot than your typical baseboard heater. These heating systems, which work especially well for tiled floors, transform your entire floor into your home's heat source, providing you with efficient and consistent heat.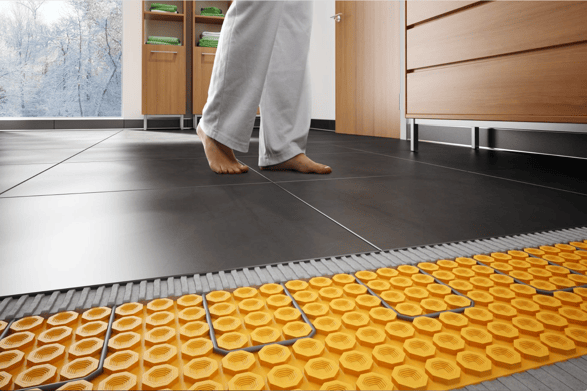 Warm Floors Up To 70% Faster Over Concrete
Heating sytems are a great solution for tiled floor, which provides customizable and comfortable electric floor heat, while providing support, vapor management, waterproofing, and uncoupling for your tiled floor. No clips or fasteners are required either! This ensures a long-lasting tile installation as well as energy efficient heat.
These heated cables can be placed wherever you need without affecting the height of the floor, and does not require self-leveling compounds to encapsulate the cables, which significantly reduces the time and effort required.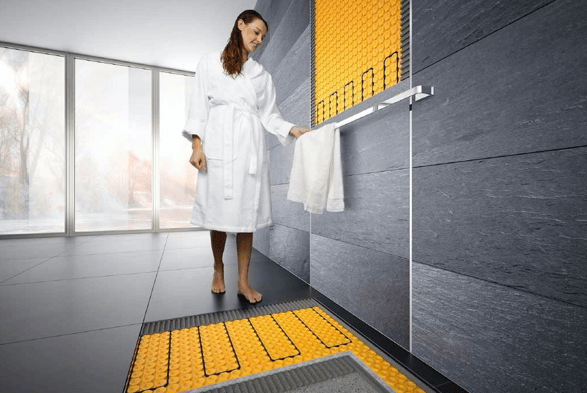 How Energy Efficient is Under-Floor Heating?
Underfloor radiant heating involves under laying the floor with a hot element or tubing that transfers heat into the room via infrared radiation and convection, obviating the need for forced or blowing air.
According to the U.S. Department of Energy's Energy Savers website, under-floor heating has a number of advantages over other forms of heat distribution: "It is more efficient than baseboard heating and usually more efficient than forced-air heating because no energy is lost through ducts." Under-floor heating is also a good choice for those with severe allergies as no potentially irritating particles get blown around the room.
The uniform heat distribution over the entire surface of a floor heats the lower half of the room, enveloping inhabitants in warmth at a lower overall temperature—in some cases up to five degrees Fahrenheit cooler—than a conventional heating system. "Radiators and other forms of 'point' heating circulate heat inefficiently and hence need to run for longer periods to obtain comfort levels," reports the Residential Energy Services Network (RESNet). They draw cold air across the floor and send warm air up to the ceiling, where it then falls, heating the room from the top down, creating drafts and circulating dust and allergens. Under-floor heating systems transmit heat on average some 15 percent more efficiently than conventional radiators.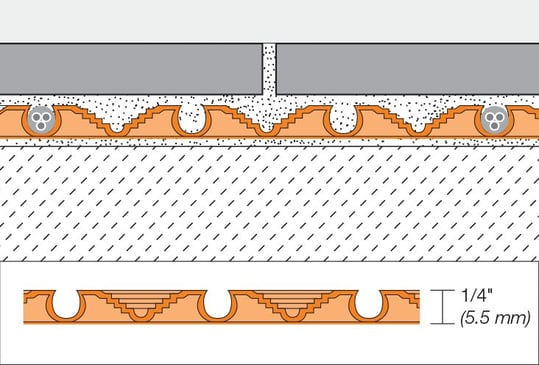 Are you on the search for new tile or thinking about renovating your space? Visit us in-store at one of our locations across the North East to view a live display of our heated-tile system and view our large inventory of tile collections!
Receive 20% OFF your Heated Floor Warming System purchase!