When choosing the stone for your countertop, there are a few things to consider: color, application, care and durability. Natural stone is unique. The variety of shades and colors inherent to natural stone are endless; each pattern is different. Some stones create a sense of movement, while others a more subdued look. All natural stone is porous to some degree and is subject to staining, etching, and wear, depending on the type of stone it is and its durability threshold. Most stone requires some level of care. Being aware of these distinctive differences will serve as a guide to selecting the right stone for your countertop.
Granite Countertop
Super strong and durable, granite is the most common igneous stone found in the earth's surface. Composed of mainly natural quartz and other minerals, granite is used everywhere. From residential and commercial countertops to Mt. Rushmore, it performs well in durability, resistance to heat and abrasion, and strength. Although, naturally resistant to acidic food stains, it is porous and has to be sealed. The surface can be changed from polished to honed, leathered or a SatinStone finish. Significantly, granite accepts a brilliant polish that accentuates its rich hues and grains, creating a beautiful display of color. Polished granite has become a desirable luxury to showcase in any space.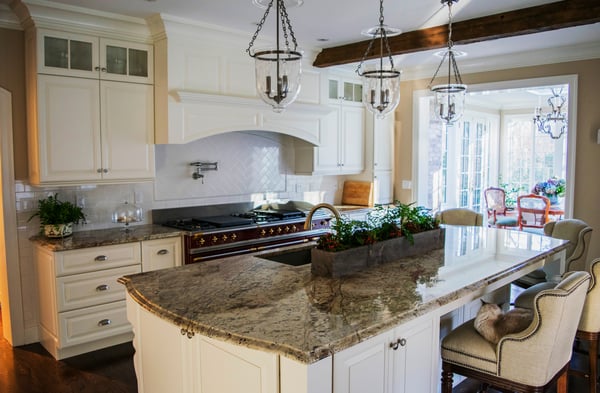 Quartz Countertop
Quartz is a manufactured surface (typically made up of 93% loose quartz stones that are bound together by a polymer resin) that offers a broad range of color options and creates a more contemporary look. Quartz is just as durable as granite, but it is less porous, making it more stain resistant and clean for kitchen countertops or vanity tops. Quartz is not resistant to harsh chemicals such as acetone and other solvents. It is more susceptible to damage from heat than granite. The most popular brands of quartz-engineered stone include Cambria, Silestone, and Viatera. The finishing options include, satin or suede on some engineer quartz brands that are provided exclusively from SatinStone.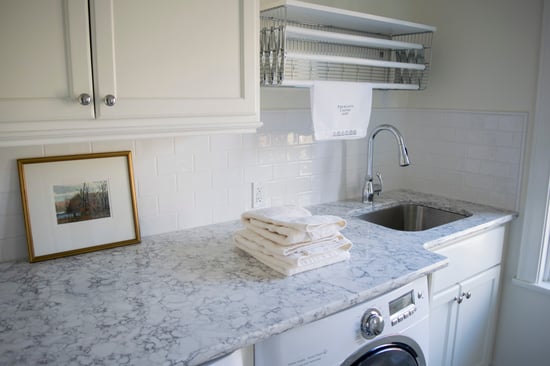 Quartzite Countertop
Quartzite, not to be mistaken with quartz, is a natural stone that is mined, sawn into slabs and fabricated into custom countertops. Generally found in shades ranging from white to gray with highlights of red and pink, some quartzite is harder than granite. Quartzites that have marble properties are more prone to etching and obsorption than others. Like all natural stone; it needs to be properly sealed to keep clean. The surface of quartzite can be changed to polished, honed, and leathered/brushed (The degree of texture may be less than other stones when working with the more solid colors) or a SatinStone finish.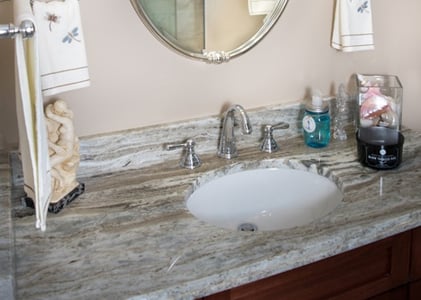 Marble Countertop
Marble is an elegant natural stone that comes in a rich display of hues ranging from white to solid black with a full assortment of highlighting colors in between. Marble, although beautiful, is porous and should be sealed when installed and again as needed depending on usage. Although heat resistant, marble is more appropriately used for vanity tops because it is naturally a softer stone. Although, often found in kitchens, marble is not durable enough for everyday kitchen use. Anyone thinking of using it in the kitchen should be fully educated on the reasons why it is not recommended. Sharp knives, and pots and pans, can easily chip and scratch this lovely stone, while colored liquids can easily stain it. The surface of Marble can be changed to polished, honed, leathered/brushed or a SatinStone finish.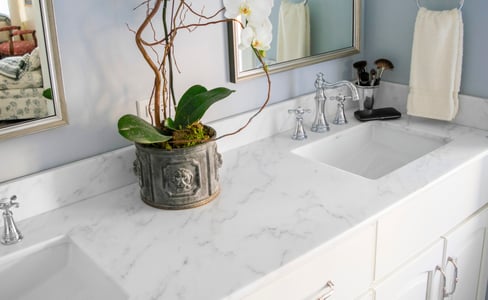 Limestone Countertop
A sophisticated material, limestone has grown in popularity for its durability, heat resistance and remarkable resemblance to natural marble. The display of white and creamy hues with very little veining makes limestone a desirable commodity. Like all natural stone, limestone is porous, susceptible to scratches and needs to be sealed regularly to protect its finish. As a soft stone, limestone is best used in low traffic areas, and not recommended in the kitchen unless the consumer is fully aware of the potential issues.
Onyx Countertop
Rare and positively beautiful, Onyx is a unique work of art. It comes in a variety of colors and contrasting veining that naturally brighten up any space. Even more appealing is that onyx can be backlit, creating a dramatic displaying of colors with a rich mesmerizing glow. It is a soft stone that requires extra care in handling. Used as a countertop, onyx is typically backed with a fiberglass netting and epoxy resin that works to strengthen the slab. As a soft stone, it is very susceptible to scratches. Acidic liquids such as lemon juice or vinegar can etch and dull the surface. Onyx needs to be sealed properly and cleaned frequently with a special stone cleaner to preserve its natural beauty.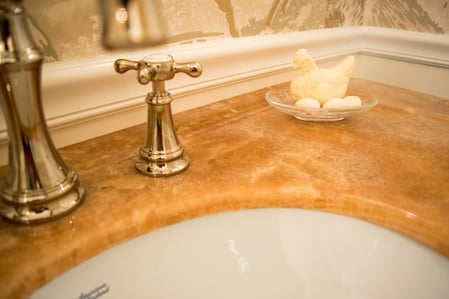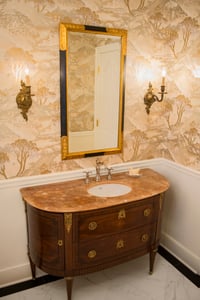 Soapstone Countertop
Soapstone is a natural stone, milky white in appearance that ranges from an array of whites, off-whites, pearls, and grays with an inherent marbling display. Naturally porous and a pliable material, soapstone will not crack easily from the stress of weight. It can be sealed or oiled to make it smooth to the touch and to preserve the beautiful natural patina. Oiling will reduce staining while making it darker in appearance; sealing will require future maintenance to preserve the seal and original color. If sealing is preferred over oiling, a sealer enhancer can be used to darken the stone followed by the sealing process to maintain it. Soapstone is often used in labs for its chemical resistance, and in ovens because of its heat resistance. Soapstone is a soft stone that can easily scratch, giving it a desirable rustic look. Light scratches can be sanded down, followed by re-oiling or sealing to maintain the stone.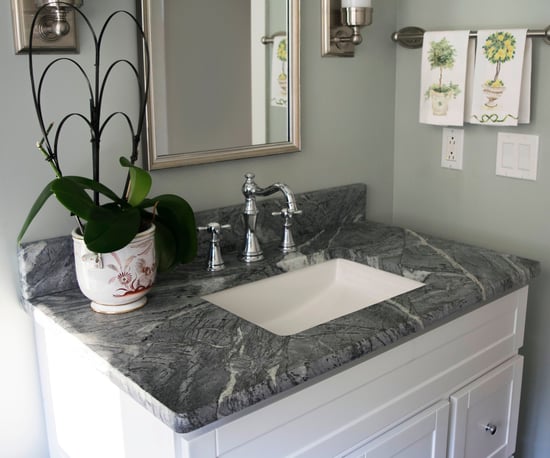 Porcelain Countertops that Look like Natural Stone
On a side note, a porcelain countertop offers the look of natural stone and ultimate durability. The most popular brand of porcelain countertop in thin stone is Maxfine. Although some manufacturers claim that porcelain countertops are stain resistant, many will recommend sealing the surface. This will make for easier cleaning. It is lightweight, resilient and suited for both indoor and outdoor applications. For a more solid colored look, Dekton porcelain offers a variety of colors. It is frost proof, heat resistant and can withstand UV rays, which makes it perfect for both indoor and outdoor applications.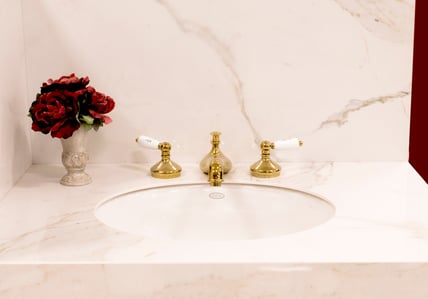 When designing your space, the possibilities seem endless. Each stone is unique and specially suited for a variety of applications. Being aware of the inherent differences is a step in the right direction toward finding the stone that will best fit your lifestyle and express your creativity.
For more information on choosing the right stone countertop, we welcome you to visit our showroom.