Working on your summer home? Rebuilding your dream bath? Yearning for a fun summer look that will give you the feel of a warm summer breeze no matter what time of year? Look no further - we've got your summer fix.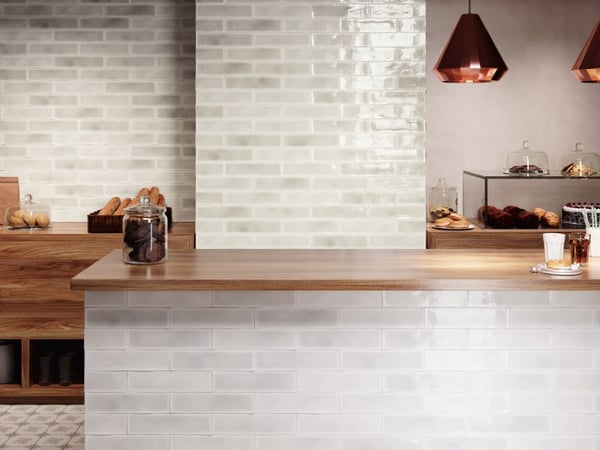 Beachfront - 3 x 12 Wall Tile in Taupe


Update your house with beautiful summer accents

This is the time of year to remodel and updater your home. And with many of us being stuck at home for weeks due to the virus, there's no better time than now to take on that next home improvement project. New tile is an ideal way to put a fresh face on your tired and dated kitchen or bath. The Big Box stores will give you a selection of predictably boring tiles, which is fine if your okay with boring. Fortunately, there is an alternative.

GENROSE Stone and Tile has a huge selection of unique ceramic, stone, and glass tile designs you will not find elsewhere. Check the GENROSE website for some great tile and design ideas or, better yet, come visit one of our showrooms where one of our expert designers will work with you to make your dream come to life.

Here, we showcase four summer-themed tiles that can serve as the primary focus or merely accents that will transform any bath into your own little oasis. With our abundant tile selection, the summer-time possibilities are endless, so let your imagination run wild!

San Marino Bubble Glass Tiles

Add a unique flare to your bath with San Marino's Bubble Glass Mosaic Tiles coordinated with our hand-made San Marino subway tiles. This captivating glass mosaic collection features a wide variety of color combinations, shapes and designs to give a tailored look to any bath project. San Marion Mosaics have the added benefit of being made from durable, frost-resistant glass material. San Marino Tile adds a beautiful accent to any bath setting.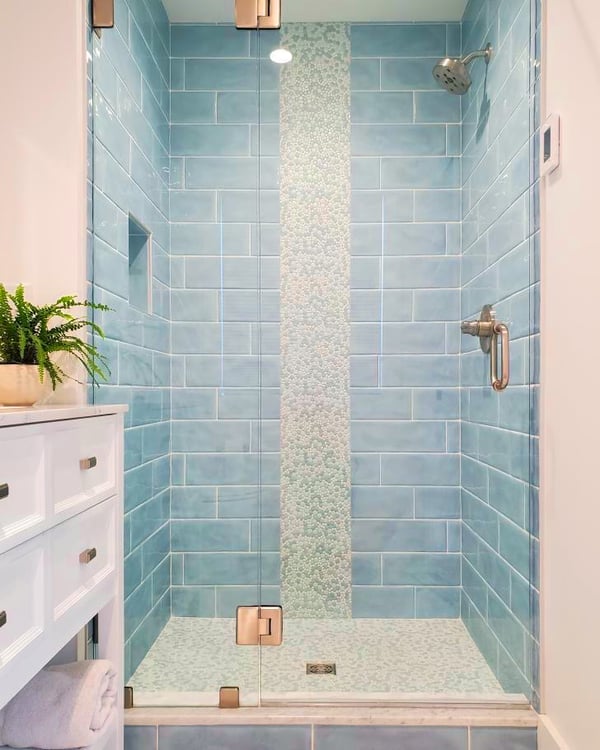 San Marino 11.3 x 11/3 Bubble Glass Tiles
San Marino via Instagram @coastalmainefarmhouse
Beautiful marine colors of the Evoke Tile Collection
If you can't make it to the Riviera this year, create your own little Mediterranean haven with the marine-inspired colors white, aquamarine, teal, blue and light blue in the Evoke Tile collection. This striking glossy ceramic tile lends a definitive seashell accent, yet also comes in more traditional tile colors like beige, yellow, orange and red.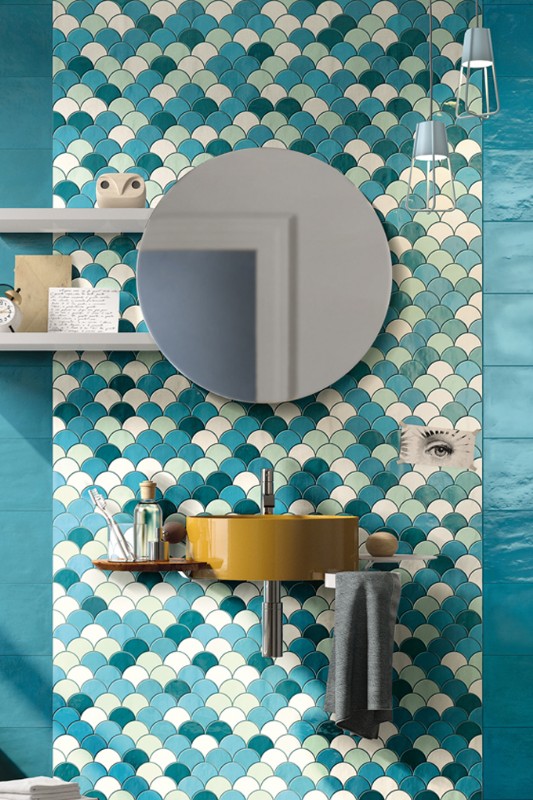 Evoke glossy ceramic tile in marine colors
Glossy Ceramic Beachfront Tile
Beautiful 3x12 wall tile in fun summer colors – Beachfront Tile. This exquisite glossy ceramic subway tile brings the warmth of summer to your bath year-round.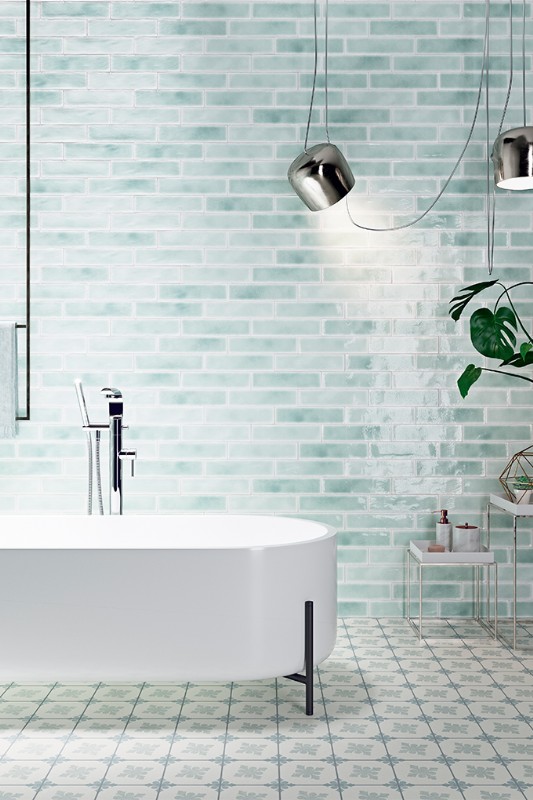 Beachfront Aqua ceramic tile
Striking Crackled Finish Watercolor Tile
Dynamic 2.8x16 ceramic tile – the name says it all – Watercolor Tile. Available in a variety of blue, white and light green hues, Watercolor Subway Tile sports a gorgeous crackle finish reminiscent of the Newport Mansions of yesteryear. Turn your bath into a room even the Vanderbilts would be proud of.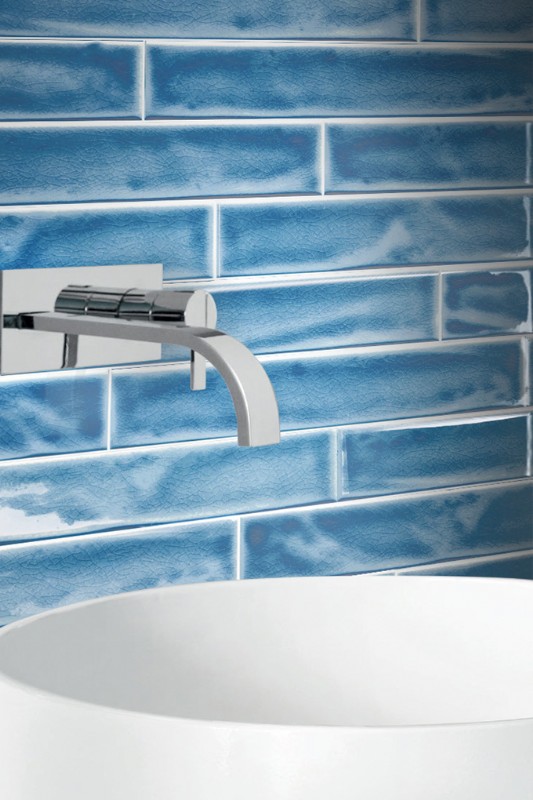 Watercolor wall Tile in Lago Velato
For more creative ideas on tile and tile surface finishes, visit the GENROSE Stone and Tile Inspired Spaces Gallery
It is always important to deal with a professional stone and tile dealer before making decisions. GENROSE Stone and Tile with locations across the Northeast is a design driven company, providing standard, unique, and custom designed surface materials. Our USA manufacturing divisions, which produce handmade ceramic tile, stone fabrication, mosaics, and cut-to-size tile, provide a resource to overcome traditional sourcing obstacles. Using a combination of the best technology and equipment in the world together with the superior workmanship of our design professionals, GENROSE can do anything in the realm of stone fabrication.
Contact the professionals at GENROSE Stone and Tile at one of their 11 Northeast locations, or search their website at www.genrose.com to start building your dream.
GENROSE Stone and Tile is an accredited fabricator with the Natural Stone Institute.